Fill In Crossword Puzzles

Cartoon Characters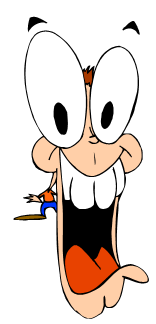 Fill In Crossword Puzzles are lots of fun! Here's a cartoon themed crossword for you to complete.
Place the names of 40 cartoon and comic strip characters into this puzzle. If you've never solved a fill-in puzzle before, here are a few tips.
1) Use a pencil.
2) Use the number of letters in each word to help you.
3) Try to place words first with the fewest possibilities. In this puzzle, for example, there are only two 10-letter words. Find the places in the crossword where they will fit. Then see if other words will intersect properly with them.
4) Check off words as you use them, but don't completely obliterate them. You might just make a mistake and need to come back to them!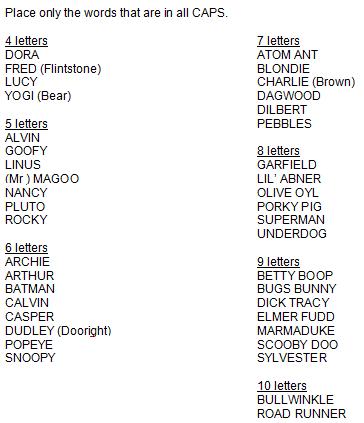 Additional Crosswords :

You might also enjoy these...
If you're a more serious puzzler, try...
US Vice-Presidents Crossword Test your knowledge of the history of the United States government and see how many vice presidents you can recall.


Cryptic Crossword Puzzles If you haven't tried cryptic crosswords before, you're in for a treat. The answer for each cryptic clue is an anagram for one of the words in the clue.



Don't miss all the other fun stuff here at Word-Game-World!

Our printable word searches, crosswords, anagrams, word scrambles, and Bible games can keep you entertained for countless hours! You'll find original puzzles here that aren't available anywhere else, such as our Buzzwords and ZigZags.

Word Play is What We Love!

---

Go to Medium Crossword Puzzles

Go to Difficult Crossword Puzzles