Celebrity Crossword Puzzles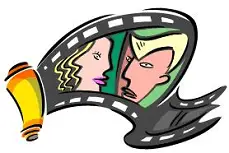 Here's one of our favorite Celebrity Crossword Puzzles. Supply the last name only of the actor or actress who had major roles in both films listed for each clue. This won't be too difficult for true movie buffs, right?
And if you can't get enough of Celebrity Crossword puzzles, see our links at the bottom of the page...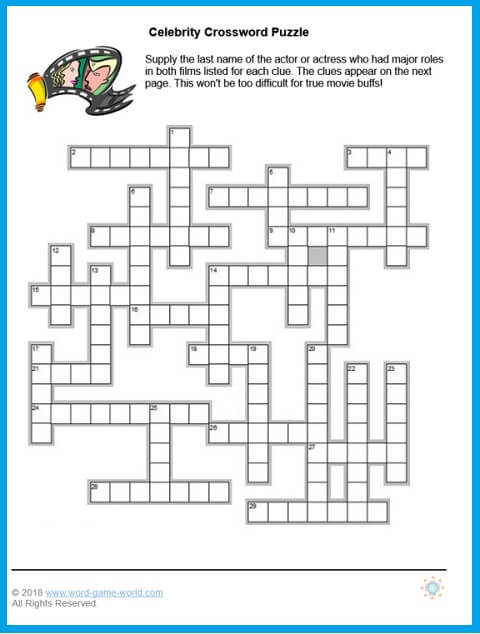 Across:
2. Jumanji & Patch Adams
3. The Rock & National Treasure
7. Batman Returns & One Fine Day
8. Speed & The Blind Side
9. Sense and Sensibility & Stranger Than Fiction
14. Field of Dreams & Message in a Bottle
15. Mission Impossible & The War of the Worlds
16. Little Women & The Last Word
18. Nick of Time & Pirates of the Caribbean: The Curse of the Black Pearl
21. You've Got Mail & Kate and Leopold
24. A Few Good Men & The Bucket List
26. Beverly Hills Cop & Daddy Day Care
27. G.I. Jane & A Few Good Men
28. Pretty Woman & Mona Lisa Smile
29. The Shawshank Redemption & Driving Miss Daisy
Down:
1. Jurassic Park & Home of the Brave
4. Lethal Weapon & Braveheart
5. Ocean's Eleven & Meet Joe Black
6. Sister Act & The Color Purple
10. Apollo 13 & Cast Away
11. The Jerk & The Pink Panther
12. Raiders of the Lost Ark & The Fugitive
13. Batman Forever & Bewitched
14. The Truman Show & The Cable Guy
17. Music and Lyrics & Two Weeks Notice
19. Shakespeare in Love & Proof
20. E.T. & 50 First Dates
22. Grease & Hairspray
23. The Silence of the Lambs & Flightplan
25. Basic Instinct & Sphere
Across:
2. Robin WILLIAMS 3. Nicolas CAGE 7. Michelle PFEIFFER
8. Sandra BULLOCK 9. Emma THOMPSON 14. Kevin COSTNER 15. Tom CRUISE 16. Winona RYDER 18. Johnny DEPP 21. Meg RYAN 24. Jack NICHOLSON 26. Eddie MURPHY 27. Demi MOORE 28. Julia ROBERTS 29. Morgan FREEMAN
Down:
1. Samuel JACKSON 4. Mel GIBSON 5. Brad PITT 6. Whoopi GOLDBERG 10. Tom HANKS 11. Steve MARTIN 12. Harrison FORD 13. Nicole KIDMAN 14. Jim CARREY 17. Hugh GRANT 19. Gwyneth PALTROW 20. Drew BARRYMORE
22. John TRAVOLTA 23. Jodie FOSTER 25. Sharon STONE
If you like celebrity crossword puzzles, you might also enjoy...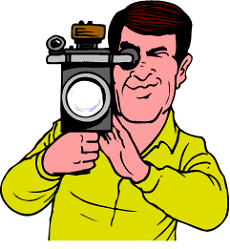 New! Movie Word Search - Supply the missing word in 30 movie titles, then find the words in the diagram. Two puzzles in one!
Celebrity Anagrams: Can you find and unscramble the name of your favorite celebrity?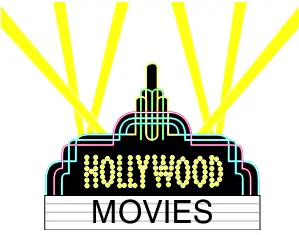 See It On Fox TV: Finish the titles for 20 popular Fox television shows, past and present. Should be easy, right?

Movie Crossword: Are you a Movie Buff? See if you can come up with 30 one-word movie titles from the Internet Movie Database's list of top 250 movies of all time, as judged by the website's users. Use the clues to find the name of each movie.
 
Movies from the 1990s: Unscramble these popular movie titles from the last century!
---