Bible Cryptograms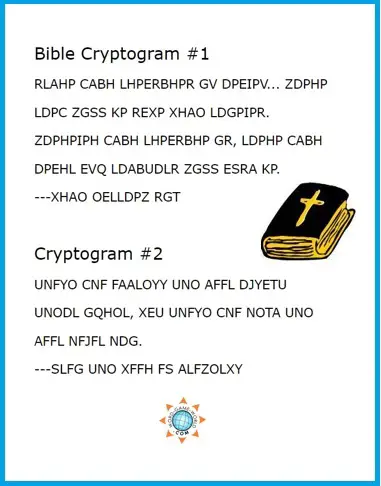 Bible cryptograms are just as fun to solve as any other cryptogram. But they have the added advantage of conveying the truth of God's word. See how quickly you can solve the puzzles here.
If you're not sure how to solve cryptograms, go ahead and review our tips.
Note: We used the New Living Translation. We did not include the exact reference in the puzzle. You WILL find it in the answer key, however.
Bible Cryptogram #1

RLAHP CABH LHPERBHPR GV DPEIPV... ZDPHP
LDPC ZGSS KP REXP XHAO LDGPIPR.
ZDPHPIPH CABH LHPERBHP GR, LDPHP CABH
DPEHL EVQ LDABUDLR ZGSS ESRA KP.
---XHAO OELLDPZ RGT

Cryptogram #2

UNFYO CNF FAALOYY UNO AFFL DJYETU
UNODL GQHOL, XEU UNFYO CNF NOTA UNO
AFFL NFJFL NDG.
---SLFG UNO XFFH FS ALFZOLXY

Cryptogram #3


Printable Version and Solution
Here are more words of wisdom from the book of Proverbs for you to decode. How long will it take you?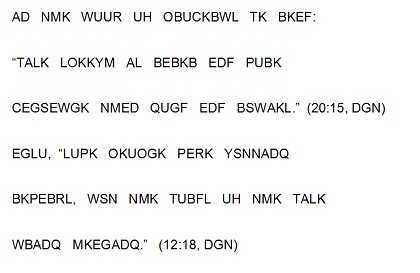 Cryptogram #4

I like to title this puzzle, "Thirst Quencher." You'll see why once you solve it!
Printable Version and Solution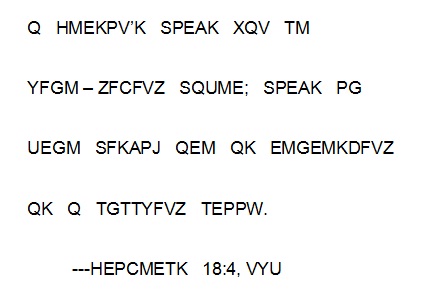 Easter Cryptogram
One of the most important stories in the Bible happens at Easter! Celebrate the Risen Lord as you solve this holiday cryptogram.  Share it with a friend or group!
Printable Version and Solution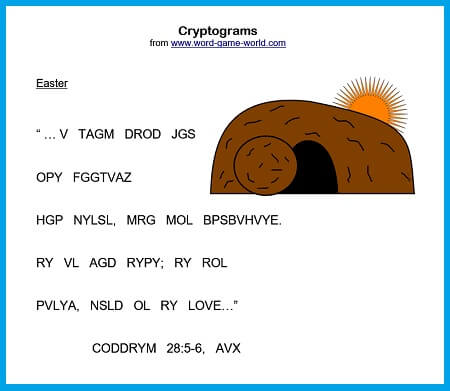 More Bible Word Games

Here's a unique Bible Brainstorming game that's great to try on your own or in a group. And here's a very popular a free printable Bible word search.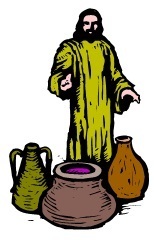 See our entire collection of Bible Word Search Puzzles, or choose one from this shorter list:

Who Was Jesus? Jesus was called by many names in the Bible. We've hidden 40 of them in this puzzle. See how many you can find.

The Books of the New Testament Great for personal use or a Sunday School class. Find all the books of the New Testament. Don't miss the little "twist" in this one!
Joseph - Son of Jacob Review the names of Joseph's brothers, his experiences in Egypt and more as you solve this fun word search puzzle.
Bible Crosswords

We also have Bible crosswords for all ages. Here are two of my favorite: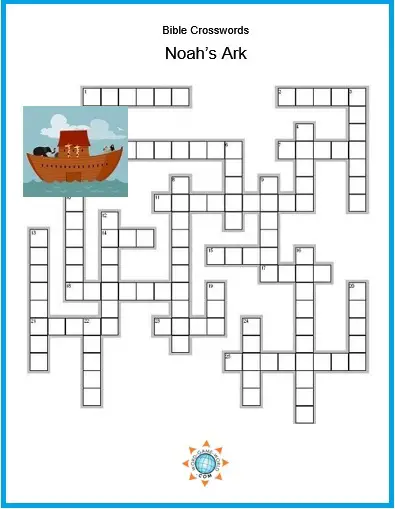 Noah's Ark Bible Crossword Can you answer all these clues on one of the most famous events in the Bible?

The Story of Esther One of the most remarkable women in the Bible, the wise and beautiful Queen Esther, is the centerpiece of this interesting crossword puzzle.

More Cryptograms


Check out our entire collection of cryptograms, cryptofamilies,  and cryptoquotes.
Here are a few of our favorites:
Double Crytoquips - One code solves two puzzles on a related topic
More Cryptoquips - A fun assortment of entertaining quips
---