Halloween Word Search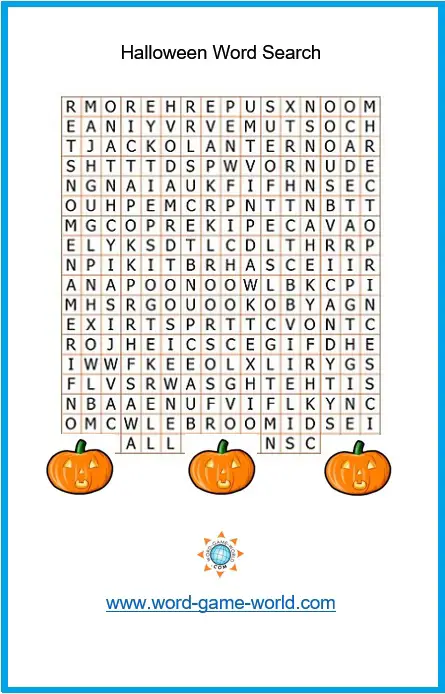 Here's a fun Halloween word search puzzle, suitable for all ages. How long will it take you to find all 30 words related to this special fall occasion?
Print out a free copy for yourself and a few extra to share. The puzzle is perfect for classrooms and parties!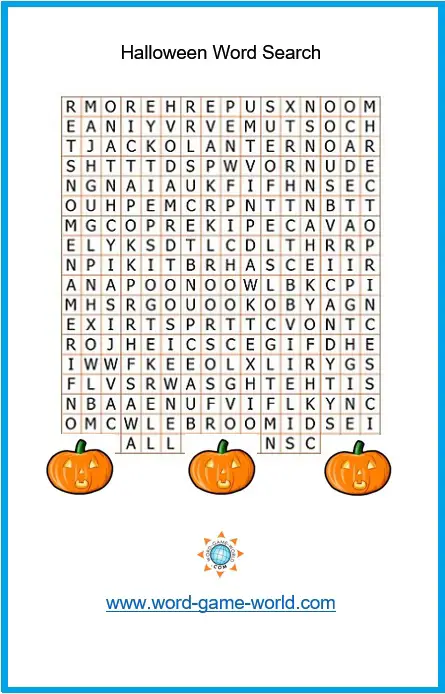 Word List:

BATS

BLACK CAT

BROOM

CANDY

COSTUME

FIREMAN

FUN

GHOST

GOBLIN

HALLOWEEN

HAUNTED HOUSE

JACK O LANTERN

MASK

MONSTER

MOON

NIGHT

OCTOBER

OWL

PARTIES

PIRATE

PRINCESS

PUMPKIN

SCARECROW

SCARY

SKELETON

SPIDER

SPOOKY

SUPERHERO

TRICK OR TREAT

WITCH
If you enjoyed this Halloween Word Search, you make also like...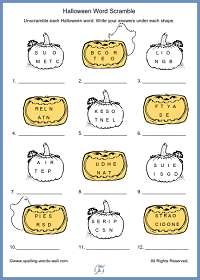 ...this new Halloween Word Scramble!  Just in time for Halloween, here's an eye-catching new word scramble that's suitable for classroom parties, family night, or just about any other Halloween event. It includes 12 not-too-scary ages, making it appropriate for all ages.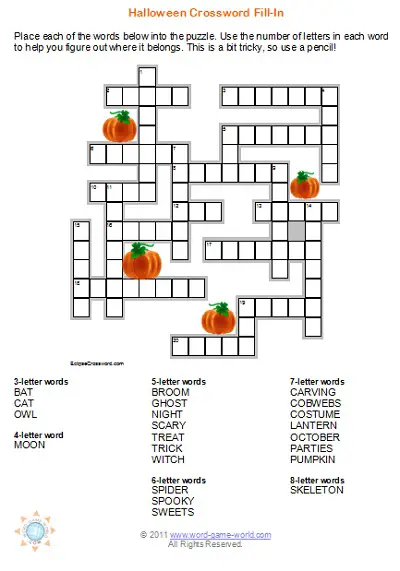 Try this Halloween Crossword Fill-In Puzzle. It's a bit tricky, but not too scary!  It's a unique Halloween word puzzle that you're sure to enjoy. Simply place each word into the crossword in the right place. Sounds easy...right?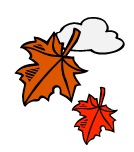 Fall Word Search Super-simple fun word search for autumn, perfect for early learners. It's nice supplement to the Halloween word search puzzle above.
Football Word Search Are you ready for some football? How about a football word search? Find 54 terms related to football.

NEW! Thanksgiving Word Scramble - Here's an entertaining Thanksgiving Word Scramble puzzle with a twist! Discover a timely hidden message after you unscramble all 15 words correctly. The theme of this page is gratitude. Solve on your own or with a group. Share with family and friends this season!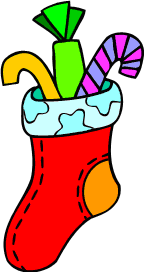 Holiday Word Search -A traditional puzzle with lots of words about Christmas
Christmas Word Searches - Two very non-traditional free word search puzzles that you're sure to love!
Martin Luther King, Jr. Word Search Puzzle Great review at any time of year!
Educational Word Searches & Crosswords:


Canada Word Search Puzzle Find the names of territories, cities, natural resources, and more.
London Word Search Puzzle A fun way to learn about the capital of the United Kingdom!
Spanish Word Search Puzzle Practice everyday words in both Spanish and English.

States and Capitals: A-M Test your knowledge of the states and capitals. An educational -- and fun -- crossword puzzle!
States and Capitals: N-W Find the rest of the 50 states and capitals right here! Good practice, no matter your age.

Space Word Search: More practice with outer space words. Lots of fun!
Math Word Search Puzzles: Two fun puzzles featuring multiplication problems and math words. Great for all ages!
Astronomy Crossword Puzzle Review many of the words and definitions that are in the word search puzzle with this crossword!
Don't miss our collection of Kids' Word Search Puzzles!
Popular Crossword Puzzles


We are adding new word games and puzzles on a regular basis to Word-Game-World. So be sure to bookmark us and check back often to find fun new stuff!
Whether you like word searches, word scrambles, crosswords, anagrams, or other word games, you are sure to find something you like.
---