Cryptoquips
Is your brain ready for a workout? Cryptoquips are lots of fun, and they are also good for keeping the brain sharp!
Here's a peek at the first one. Scroll down to get descriptions and links to many more.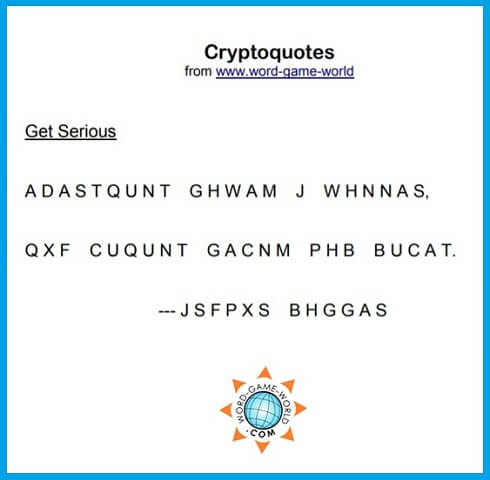 If you'd like a bit of help before you begin, please read our tips for solving cryptograms. Note that single-letter words are likely to be I or A. Three-letter words are often THE, AND, FOR, ARE or BUT. 

Cryptoquotes - Set #2

This set of cryptogram puzzles features short quotations from an interesting assortment of people. We'll give you some clues in the titles and brief descriptions, but otherwise you'll have to rely on your problem-solving, logic and decrypting skills to uncover each quote.Your effort will pay off when you read the answers!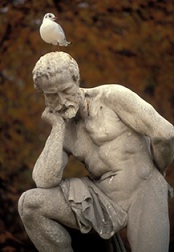 Use the link for each printable version and solution. 

Get Serious: If you joke around a lot, don't expect to be taken seriously on one important matter!
A D A S T Q U N T    G H W A M    J    W H N N A S,    
Q X F    C U Q U N T   G A C N M    P H B    B U C A T. 
 --- J S F P X S    B H G G A S
A Couple of Thoughts: Here are two interesting quotations about THOUGHTS, from two very different men.
1)   MOVUYVUC   VX   MOB   ODAGBXM   PLAY
 MOBAB   VX,   POVHO   VX   MOB   FALKDKQB
 ABDXLU     XL   NBP   BUCDCB   VU   VM.
                                           -- OBUAZ   NLAG
2)  QBDAUVUC   PVMOLSM   MOLSCOM   VX    QDKLA
QLXM; MOLSCOM   PVMOLSM   QBDAUVUC   VX
FBAVQLSX.
                                           --HLUNSHVSX


Advantage? Is it always an advantage to aim high? See what this famous writer once said.
T H A K     G O H G C O     B H I C L     A I Z Z O O L      R F  
A T J C C     K V R F M A     R D     K V O N      B O S O     F H K  
 K S H I X C O L    B R K V    M S O J K    J T X R K R H F A.
                            --- V O F S N    B.   C H F M D O C C H B
Don't Bother Me: So you think you're busy? Think about how busy this guy used to be?!
NULGL    TYPPEN   CL   Y   TGOWOW   PLAN   KLLB.
VF   WTULRMDL   OW   YDGLYRF   JMDD.
--- ULPGF   BOWWOPKLG,  YVLGOTYP   ROHDEVYN
                              YPR    HEDONOTOYP   (1923 -      )
Did you know? The first cryptograms were not written for puzzling enjoyment, but for encrypting military secrets.

More Cryptoquips

Please note that in addition to cryptoquotes, we also have cryptograms  and cryptofamilies, which are lists of ten related words. Here are some of our most popular puzzles from each category:
Dressed to Dazzle Cryptofamily

Famous Chicagoans Cryptofamily

The British Royals Cryptofamily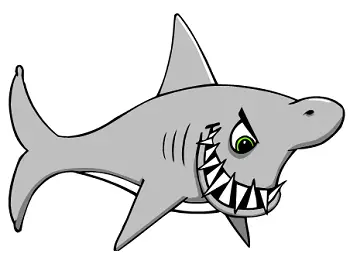 We think you'll enjoy solving each cryptoquip above. Remember that you'll need to use your knowledge of the English language, letter patterns, letter frequencies, and a little luck to uncover the special message in each puzzle. Good spelling skills are helpful, too!

Solving cryptograms are twice the fun as many other word games. Do you know why? First, you get to put your word play and logic skills to the test. Secondly, you will uncover a clever or funny quote or observation on life.

Please check back again because we'll be adding more interesting quotes, quips and witticisms to our cryptogram collection!
---