Printable Word Scrambles

Movies from the 1990s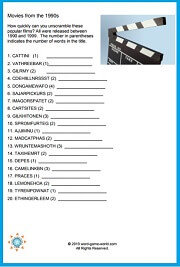 Printable word scrambles, like this one, are a lot of fun! How quickly can you unscramble these popular films? All were released between 1990 and 1999.
Note: The number in ( ) tells how many words are in the movie title.
1. CATTINI (1)
2. VATHREEBAR (1)
3. GILRMY (2)
4. CDEHIILLNRSSST (2)
5. DONGAMEWAFO (4)
6. SAJARPICKURS (2)
7. IMAGORSPATET (2)
8. CARTSITES (2)
9. GILKHITONEN (3)
10. SPROMFURTEG (2)
11. AJJIMNU (1)
12. MADCATPHAS (2)
13. WRUNTEMASHOTH (3)
14. TAXIHEMRT (2)
15. DEPES (1)
16. CAMELINKBN (3)
17. PRACES (1)
18. LEMONEHOA (2)
19. TYREMPOWNAT (1)
20. ETHINGERLEEM (2)
Answers:1. Titanic (1997)2. Braveheart (1995) 3. My Girl (1991)4. Schindler's List (1993)5. A Few Good Men (1992)6. Jurassic Park (1993)7. Patriot Games (1992)8. Sister Activity (1992)9. The Lion King (1994)10. Forrest Gump (1994)11. Jumanji (1995)12. Patch Adams (1998)13. The Truman Show (1998)14. The Matrix (1999)15. Speed (1994)16. Men In Black (1997)17. Casper (1995) 18. Home Alone (1990)19. Pretty Woman (1990) 20. The Green Mile (1999)
More Printable Word Scrambles

You might also enjoy these printable word scrambles:
Movies of the 1980s: Uses the same format as the puzzle on this page.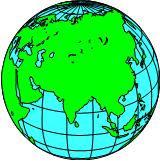 World Cities - Asian Word Scramble: How well do you know your cities of the world? If you're ready for a challenge, test your knowledge of cities in Asia and the country in which each city is located.
Mystery Word Scrambles: Try these mystery scrambles. Can you solve each word scramble puzzle? In each set of scrambled words, one of the words describes a topic. The other seven words are related to it.

Oxymoron Scramble: Here's an unusual word play scramble. Discover 20 goofy sayings we use that don't really make much sense.

Books of the Bible Word Scramble People of all ages will enjoy this Bible game with a twist! Great for family night or Bible classes.
More Fun Word Puzzles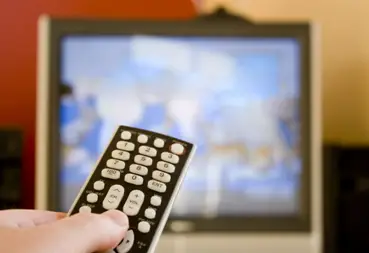 Here are some more entertainment puzzles from Word-Game-World:
Celebrity Anagrams: See if you can rearrange the letters to spell the name of a current celebrity you might see on stage or in a movie.
Celebrity Crossword: Find the last name of the actor/actress who starred in each pair of films in this crossword. Entertaining for you!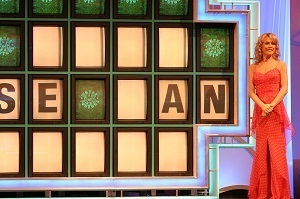 TV Game Show Hosts - How many game shows do you remember? This list goes all the way back to the 1950's. I supply the name of the game and the first name of one of the hosts. You supply the last name. How long will it take you complete this nostalgic puzzle?

See It On Fox TV  Finish the titles for 20 popular Fox television shows. Should be easy, right?
Are you a Movie Buff?  See if you can come up with 30 one-word movie titles from the Internet Movie Database's list of top 250 movies of all time, as judged by the website's users.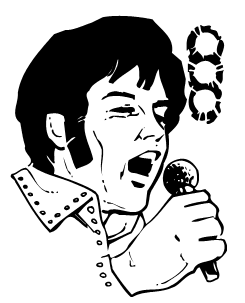 Songs of the Seventies Complete the title of these hit songs from the 1970s. Enjoy the musical memories!
The New York Times Crossword Puzzles - Trivia We've made our own crossword about the most popular crosswords in the world from the New York Times. See how many clues you can answer.
Don't miss our Kids' Word Searches and Kids' Crosswords!

There's something for everyone here at Word-Game-World!
---