Kids Bible Puzzles

David & Goliath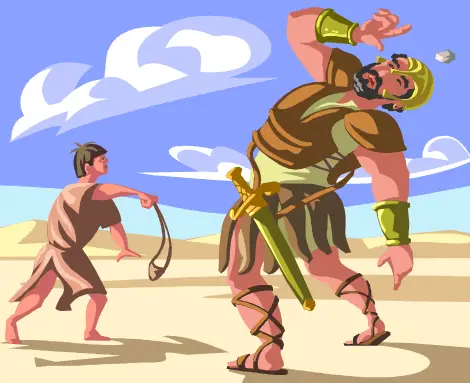 Kids and games go hand in hand! Our kids Bible puzzles make learning the Scriptures fun! Your children will have a great time as they solve these activities, and you'll be pleased with all that they learn. Try several of our puzzles while you're here!
To solve this puzzle, first read the story of David and Goliath in I Samuel Chapter 17. Then read the clues. Write one word for each clue in the diagram.
If you fill in all the correct answers, a special message will appear in the yellow boxes. The message tells what helped David defeat Goliath.
Here's a quick look at the printable version, followed by a closer view of the same.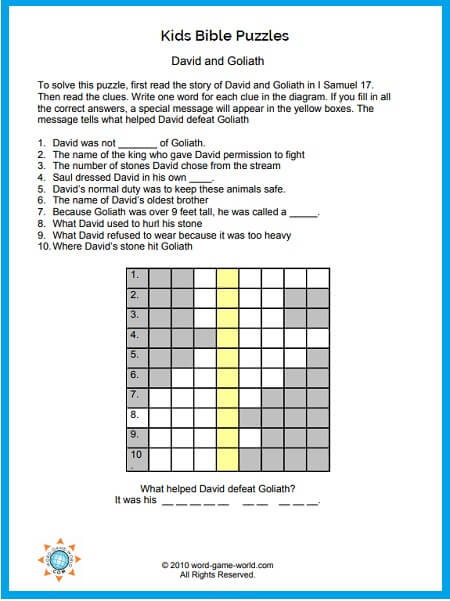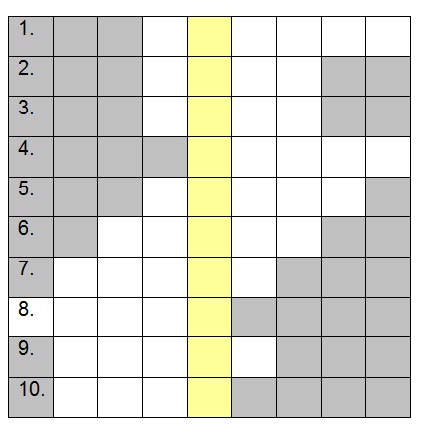 1) David was not _______ of Goliath

2) The name of the king who gave David permission to fight

3) The number of stones David chose from the stream

4) Saul dressed David in his own

5) David's normal duty was to keep these animals safe

6) The name of David's oldest brother

7) Because Goliath was over 9 feet tall, he was called a _______
8) What David used to hurl his stone

9) What David refused to wear because it was too heavy

10) Where David's stone hit Goliath
                        What Helped David Defeat Goliath?
It was his _ _ _ _ _ / _ _ / _ _ _ !

1) afraid 2) Saul 3) five 4) tunic 5) sheep 6)Eliab 7) giant 8) sling 9) armor 10)head
Message It was his FAITH IN GOD

More Kids Bible Puzzles & Games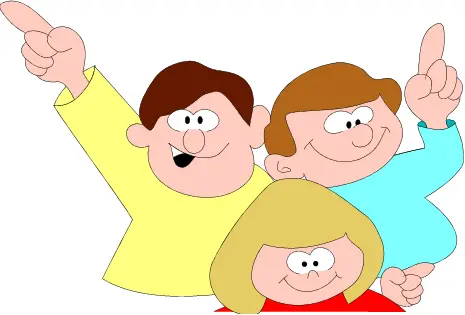 Pop Up! - How much fun will your kids have learning Bible verses? Try this game and find out! Ideal for Bible School and Church School groups.

Order, Please! A fun, flexible game to help groups of students memorize learn Bible verses. Also perfect for Bible School!
Bible Bingo Game Old Testament Bible Bingo at its best! Play it at your next family night or youth group meeting.
See our entire collection of Bible Word Search Puzzles, or choose one from this shorter list:

Who Was Jesus? Jesus was called by many names in the Bible. We've hidden 40 of them in this word search puzzle. See how many you can find.


The Books of the New Testament Word Search that's great for personal use or a Sunday School class. Find all the books of the New Testament. Don't miss the little "twist" in this one!
Characters in the Gospels Can you remember the names of these important people from the first four books of the New Testament? Great for Bible classes of all ages.
The Birth of Christ Solve this crossword about the arrival of Baby Jesus. Great for Christmas -- or anytime!
---