Printable Wedding Shower Games:

Kitchen Appliance Scramble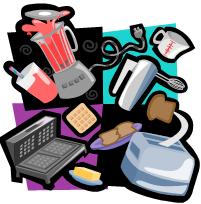 Printable wedding shower games are a "must-have" for any bridal shower. Bridal word scrambles and other wedding games are a lot of fun for all your guests.
This puzzle features kitchen appliances. It's tricky enough to challenge your brightest guests!
How handy do you think the new bride will be in the kitchen? And how handy are you at unscrambling these appliances? The items marked with an asterisk * are spelled with two words.
Here's a peek at the Printable Version. The full text also appears below.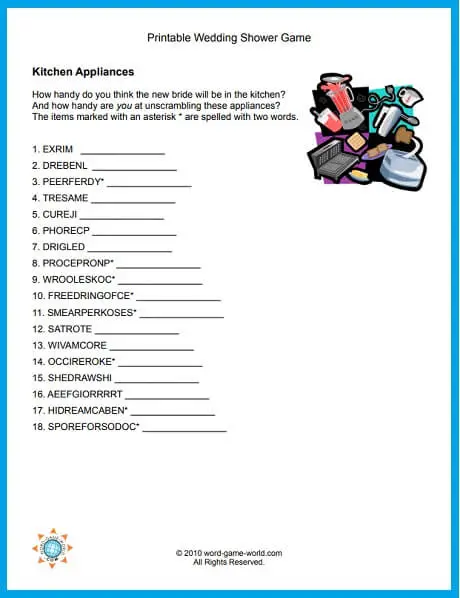 EXRIM
DREBENL
PEERFERDY*
TRESAME
CUREJI
PHORECP
DRIGLED
PROCEPRONP*
WROOLESKOC*
FREEDRINGOFCE*
SMEARPERKOSES*
SATROTE
WIVAMCORE
OCCIREROKE*
SHEDRAWSHI
AEEFGOIRRRRT
HIDREAMCABEN*
SPOREFORSODOC*
Check here for the solution, or print the pdf for the entire puzzle and solution.
1. mixer 2. blender 3. deep fryer 4. steamer 5. juicer 6. refrigerator 7. griddle 8. corn popper 9. slow cooker 10. coffee grinder 11. espresso maker 12. toaster 13. microwave 14. rice cooker 15. dishwasher 16. refrigerator17. bread machine 18. food processor
More Printable Wedding Shower Games: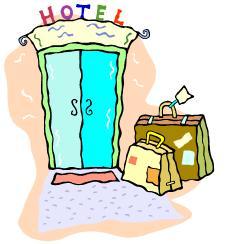 Here are some more wedding shower games we think you'll enjoy:
Bridal Shower Honeymoon Scramble: What does every bride need to take with her on the Honeymoon? Unscramble these fun words to find out.

Desserts Word Scramble: A puzzle page your guests are sure to love! Be sure to have plenty of sweets to serve while your guests untangle these words!
What's Cooking-Bridal Shower Game: Do your guests know all about food? Let them try this fun trivia quiz! Interesting facts will lead to some interesting discussion.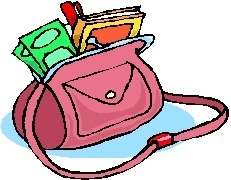 Bridal Shower Purse Game: Each guest is sure to find treasures in her purse that will yield lots of points. But will she find items that will cause her to lose points, too? New twists on a fun game.

Crazy Games For Bridal Showers: Three crazy activities that your guests will love! Choose one, two or all three! Guests will enjoy laughing and interacting with each other. Super-easy prep for the hostess.
Or, see our complete collection of printable wedding shower games. We have a variety of fun game formats including word search puzzles.

More Word Game Fun: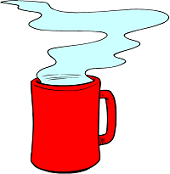 Your guests may also be interested in some of these:
Coffee Word Search - This clever puzzle is designed inside a coffee mug! Serve a variety of favorite blends while your guests solve this word search game.

Full-Service Spa - Ask your guests to relax! Pamper them a bit while they solve this fun word search puzzle.

If you like Word Scramble Games, we have lots of those, too!
Who knows...you just might need some baby shower games soon. We have a bunch. Please bookmark this site now so you'll be all set later!

Don't miss our large selection of word search games and printable crossword puzzles, suitable for almost any occasion!

---