Word Search Puzzles
Printable, Free and Fun!

Full-Service Spa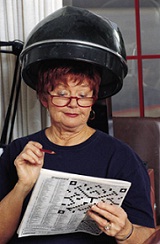 We have lots of word search puzzles printable, free and ready for you. We have topics to interest almost everyone.
If you like to be pampered, you're sure to love this puzzle!
Like most of our word search puzzles, this one has a twist. One of the words in the word list appears in the puzzle twice. How long will it take you to find it?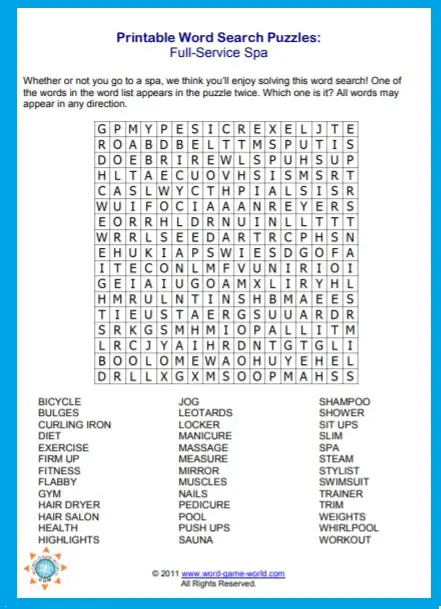 Don't Forget the Twist!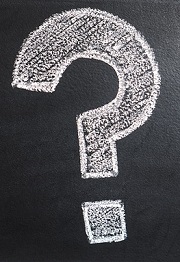 This puzzle, like so many of our word search puzzles printable, comes with a twist. ONE of the words in the word list appears two times in the puzzle. Which word is it, and where is it hidden???
Word List:

BICYCLE

BULGES

CURLING IRON

DIET

EXERCISE

FIRM UP

FITNESS

FLABBY

GYM

HAIR DRYER

HAIR SALON

HEALTH

HIGHLIGHTS

JOG

LEOTARDS

LOCKER

MANICURE

MASSAGE

MEASURE

MIRROR

MUSCLES

NAILS

PEDICURE

POOL

PUSH UPS

SAUNA

SHAMPOO

SHOWER

SIT UPS

SLIM

SPA

STEAM

STYLIST

SWIMSUIT

TRAINER

TRIM

WEIGHTS

WHIRLPOOL

WORKOUT

More Word Search Puzzles Printable For You:

We think you'll also like these puzzles!

Lunch Break Word Find Can you find 40 words related to a workday lunch break? Or will you be too hungry to finish solving it?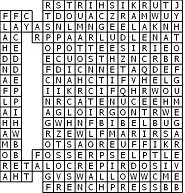 Coffee Word Search Are you a coffee fanatic? Here's a word search puzzle based on that wonderful cup of joe that many of us can't seem to do without. Grab a mug full of your favorite brew while you solve this puzzle that's also in the shape of a mug!

Top Baby Names for Boys and Girls Find the names used most often in the U.S. from 2000 to 2008. We can also help you with several baby shower word scrambles for your next baby shower.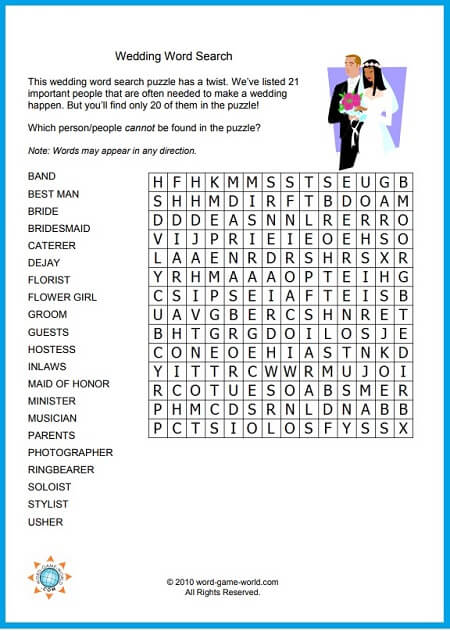 Wedding Word Search Puzzle This word search puzzle features all the important people needed to put a wedding together. But one name is missing. How long will it take your guests to find it?
The Books of the New Testament Search for all the books of the New Testament. Don't miss the little "twist" in this one!
More Word Puzzles: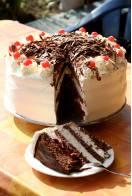 Delicious Dessert Word Scramble: Try this dessert scramble. Get comfortable and grab your favorite beverage and dessert and enjoy.

Spice It Up: A list of 20 spices and seasonings to untangle. Fun to do at the office or even at a bridal shower. How many can you solve without looking in your cupboard?

Fruit and Veggie Frenzy Start with a common word. Add one letter. Rearrange to spell the name of a fruit or vegetable. Healthy fun!
Buzzwords - Our own original design! Solve crossword clues by finding scrambled letters in a sweet honeycomb shape.

---