Word Search Printable
Flower Power!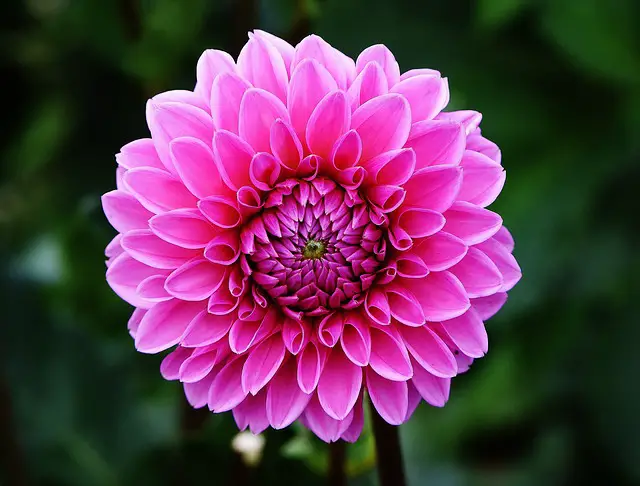 We all love a good word search printable puzzle to solve every now and then. This one is especially fun because it features a popular theme, and it has an extra twist!
Word Search Puzzle
Here's a word search printable and ready for you to solve. How quickly can you find the names of 30 flowers? Answers may appear in any direction.  
Here's the twist: The word list contains just 29 flowers. You need to find the 30th one on your own. Hint: It's a very popular flower, spelled with just four letters.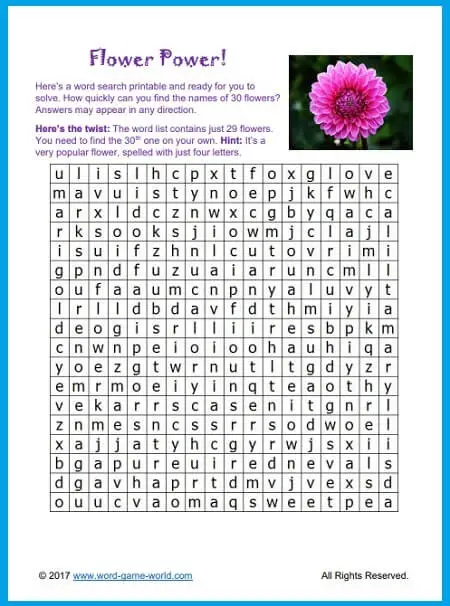 Word List
amaryllis

anemone

aster

buttercup

carnation

chrysanthemum

columbine

cornflower

daffodil

daisy

foxglove

geranium

gladiolus

hyacinth

iris

jonquil

larkspur

lavender

lilac

lily

marigold

orchid

pansy

peony

snapdragon

sunflower

sweet pea

tulip

violet



Remember...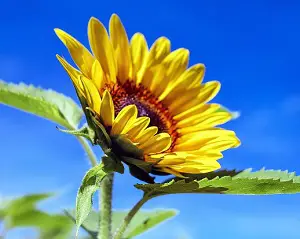 There's one more flower name hidden in the puzzle that is not in the word list above. What is the word? Where is it?
For another fun activity, try to add to this list of flowers. Can you think of 5 more? 10? 20? Even more than that?

More Word Search Printable Puzzles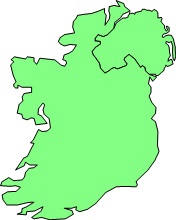 Ireland Word Search - Find all counties, rivers and other important words related to the Emerald Isle. Can you find out how many times the word GREEN appears?
Things People Collect - Folks like to accumulate interesting sorts of collections. Is your favorite collectible on this list?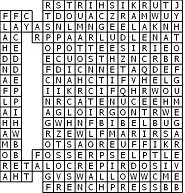 Coffee Word Search - This clever puzzle is designed inside a coffee mug! Grab a cup of your favorite blend while you solve it. 
Fruity Word Search -  Here's an easy word search for beginning puzzlers of all ages. Fruit is healthy to eat and fun to find in this simple puzzle page! Did your favorite fruits make our list?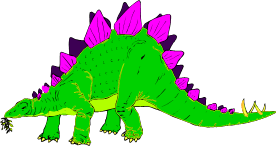 Dinosaur Word Search - Find 25 words, hidden in all directions, that are related to these fascinating animals. Also find out how many times the word DINOSAUR appears!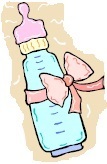 Baby Bottle Word Search: It's hard to find a cuter puzzle than this one. Guests must look for simple words, but there's no word list! Our most popular baby shower word search!
Wedding Word Search - Perfect for a bridal shower or for solving on your own. Look for the names of those people who make a wedding happen.

---