Dinosaur Word Search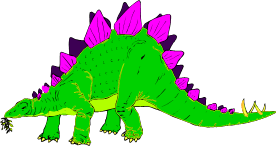 Here's a fun dinosaur word search, unlike any other! If you, your students, kids or grandchildren like word search puzzles, you're sure to love this one!

Dinosaur Word Search Directions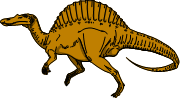 Find each word in the puzzle. Words include the names of different dinosaurs, the time periods in which they lived, and other related terms. Words may appear in any direction.
When you've finished finding the 25 words on our list, can you also unearth the word DINOSAUR? How many times?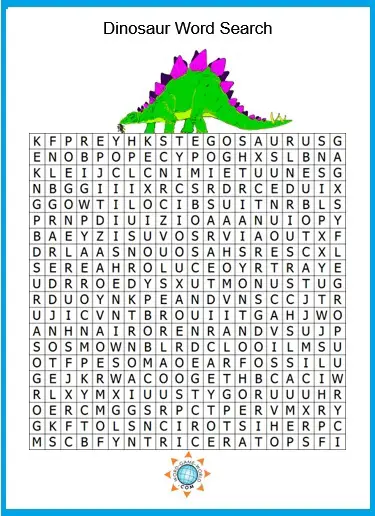 Word List:
ANKYLOSAURUS
BONE
BRONTOSAURUS
CARNIVORE
CRIORHYNCHUS
CRUSTACEOUS
EXCAVATE
EXTINCT
FOSSIL
GORGOSAURUS
HERBIVORE
JURASSIC
LIZARD
MESOZOIC
OMNIVORE
PALEONTOLOGY
PREDATOR
PREHISTORIC
PREY
PTERODACTYL
REPTILE
SKELETON
STEGOSAURUS
TRIASSIC
TRICERATOPS
More Fun Word Search Puzzles


If you like dinosaur word search puzzles, you may also want to try some of these:
Space Word Search Puzzle Try to discover all 40 outer space-related words. We only put 39 of them in the word list!

Search A Word Transportation Puzzle This one is inside a fun shape, but don't let that fool you! It's a bit of a challenge! See if you can find all of the words in this puzzle that are modes of transportation.
Fruity Word Search -  Here's an easy word search for beginning puzzlers of all ages. Fruit is healthy to eat and fun to find in this simple puzzle page! Did your favorite fruits make our list?
Double-Letter Animals - This one "otter" be a lot of fun, no matter your age or location. For an extra puzzler, how many more double-letter animals can you man that are not on our list?

Canada Word Search Explore Canada's provinces, cities, and natural resources in this entertaining word search puzzle.
Spanish Word Search Puzzle Do you know the Spanish word for these English number, color and calendar words?
Why not try a crossword, too?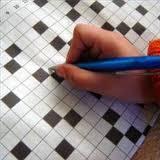 Here are just a few of our kid-friendly crossword puzzles:

Disney Crossword Puzzles One of our most popular kids printable crossword puzzles! Supply the names of some major characters from several Walt Disney stories and movies.

Let's Eat! Can you can figure out the clues to some of these common foods? You'll have to get the right word and spell it correctly to complete this yummy crossword!
What's the Scoop? A cool, yummy puzzle, all about ice cream! Just unscramble the names of the most popular ice cream flavors and place them in the puzzle. 
---