Crossword Puzzles
Printable Fun For You!

Songs of the Seventies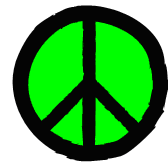 Crossword puzzles printable, free and fun. What could be better? Well...maybe music crossword puzzles!

Whether you were born in the 1950's, the 1990's, or somewhere in between, chances are you've heard most of these classic hit songs from the 1970s. Each blank line in a clue represents a missing word in the song title.
Note: There are no blank spaces in the crossword. If the answer was Love Song, for example, you would write in LOVESONG.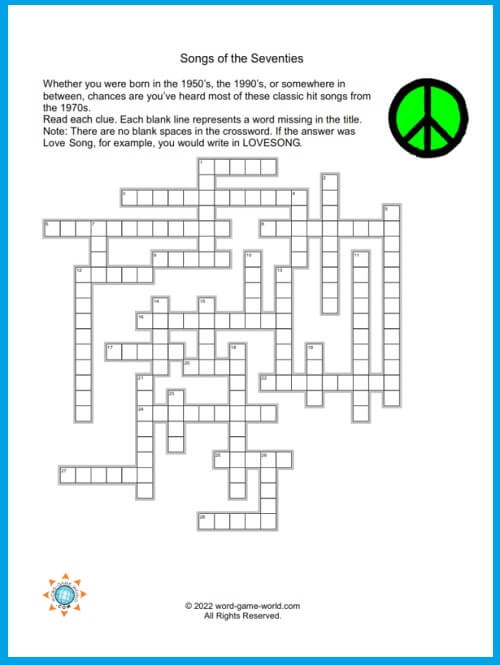 ACROSS
1. ___ Love Songs (Paul McCartney & Wings)
3. Take Me Home, ___ ___ (John Denver)
6. ____ Freedom (Elton John)
8. 50 Ways to Leave ___ ___ (Paul Simon)
9. Undercover ___ (Alan O'Day)
12. Night ___ (Bee Gees)
16. ___ Cowboy (Glen Campbell)
17. Dancing ___ (Abba)
20. It's too ___ (Carole King)
22. __ Rock (Elton John)
24. My Eyes ___ ___
25. American ___ (Guess Who)
27. You Light Up __ __ (Debby Boone)
28. One Bad ___ (Osmonds)
DOWN
1. I Will ____ (Gloria Gaynor)
2. __ __ Softly With His Song (Roberta Flack)
4. Hot ___ (Donna Summer)
5. Bridge Over ___ ___ (Simon & Garfunkel)
7. Best of My ___ (The Emotions)
10. ___ Lady (Johnnie Taylor)
11. Just My ___ (Temptations)
12. Play That ___ ___ (Wild Cherry)
13. Love Will Keep Us ___ (Captain & Tennille)
14. ___ Times a Lady (Commodores)
15. ___ Dawn (Helen Reddy)
18. Bad, Bad __ __ (Jim Croce)
19. Baby Come ___ (Player)
21. You Make Me Feel ___ ___ (The Stylistics)
23. Band of ___ (Freda Payne)
26. Stayin' __ (Bee Gees)
Interested in more puzzles about the 1970s? Try these!
More Crossword Puzzles Printable for You!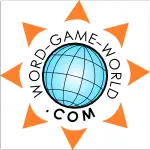 It's fun to spend some time regularly unwinding with a word puzzle or two about topics of interest. That's why we have lots more Entertainment Crossword Puzzles that we hope you'll try!

We even have a crossword puzzle all about Elvis Hit Songs! We supply some of the lyrics, and you supply the title. It might be a bit trickier than it sounds.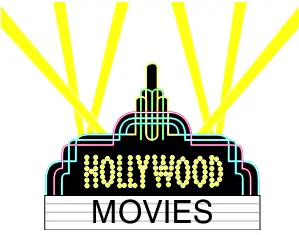 Movie Crossword - We supply the year and two actors. You supply the title of a popular film. Fun and challenging

Celebrities! Find the last name of the actor/actress who starred in each pair of films. Entertaining crossword for you!
Country Music Hall of Fame Inductees - Supply the last names of the singers who made it BIG in the country music world!

When you're looking for more crossword puzzles printable, fun and free, we hope you'll remember to come back to Word-Game-World! Note that we have lots of Word Search puzzles, Anagrams, Cryptograms and all sorts of word games, too!

---