Music Crossword Puzzles

Elvis Song Lyrics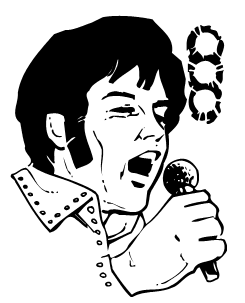 Lots of people like to solve music crossword puzzles! Are you one of them? Here's the challenge on this puzzle: How well do you know the songs made famous by Elvis Presley?
Write the title of the song that contains each of the lyrics in the clues. There are no blanks for spaces between words and no apostrophes in the puzzle grid. (Use the printable page for best results.)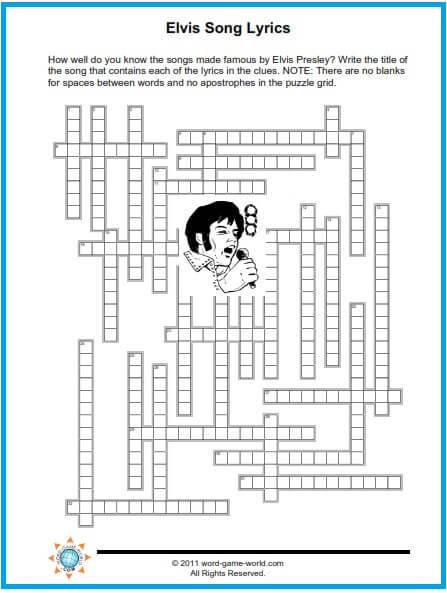 ACROSS
5. We're caught in a trap; I can't walk out.
8. It started in my eyes, crept up to my head.
9. It's not fair to tease so if you come on cold, I'm really gonna freeze.
11. Makes no diff'rence where I go or what I do.
16. Don't want a four leaf clover; don't want an old horse shoe.
18. When they said you was high-classed, well, that was just a lie.
23. Put a chain around my neck and lead me anywhere.
27. You know I can be found sitting home all alone.
29. Since my baby left me found a new place to dwell.
30. You have made my life complete, and I love you so.
31. She really moves the grass around.
32. The warden threw a party in the county jail.
DOWN
1.I don't want my heart to be broken 'cause it's the only one I've got.
2.Won't you say which way you're gonna go.
3.I gave a letter to the postman; he put it in his sack.
4.This you can believe; I will never leave you, Heaven knows I won't.
6.She knows just how to make me laugh when I feel blue.
7.A team o' wild horses couldn't tear us apart.
10.I'm itching like a man on a fuzzy tree.
12.Oh, don't make me sorry that I fell in love with you.
13.I knew the meaning of contentment, now I am happy with the Lord.
14.If you cry when you're in love, it sure ain't no disgrace.
15.When we kiss my heart's on fire, burning with a strange desire.
17.Don't know why you'd run, what you're runnin' to or from.
19.I'll be strong as a mountain or weak as a willow tree.
20.She lived, she loved, she laughed, she cried; and it was all for me.
21.I went for some candy; along came Jim Dandy.
22.I've spent a lifetime waiting for the right time.
24.Keep your cotton-pickin' fingers out my curly hair.
25.There's no strings upon this love of mine.
26.Got a whole lot of money that's ready to burn.
28.You do all the livin' while I do all the givin'.
If you like Music Crossword Puzzles, you may also enjoy these...

Anagram Celebrity Crossword - Super-fun puzzler! Do you know whose name can be anagrammed into "I RENT BELLS?"  Solve this and 21 others to successfully complete this crossword.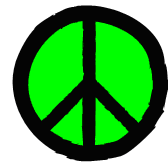 Songs of the Seventies See what you know about some of these classic hit songs from the 1970's

NEW! Missing Links - Supply the word that connects both words in the clue. Example: RAW - OUT  Answer: HIDE Fun to solve with your family or classmates!
Celebrity Food Fight - Actually, there's no fight here! But you'll need to supply the names of celebrities who have endorsed a number of food-related items.

Movie Crossword - We supply the year and two actors. You supply the title of a popular film. Fun and challenging!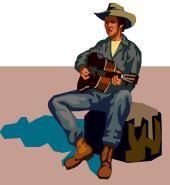 Country Music Hall of Fame Inductees - Here's another one of our great music crossword puzzles. Supply the last names of the singers who made it BIG in the country music world!
Celebrities! Find the last name of the actor/actress who starred in each pair of films. Lots of fun!
See It On Fox TV - Finish the titles for 20 popular Fox television shows. Should be easy, right?
In addition to Music Crossword Puzzles
 ...you might also enjoy our Seasonal/Holiday Word Search puzzles and our Cryptograms. Be sure to check them out!
---