Free Printable Baby
Word Search

Popular U.S. Baby Names


If you're looking for a free printable baby word search and other fun baby shower games, you've come to the right place!
We've hidden the top baby names (according to the U.S. Social Security Administration) from 2000 to 2008 in this fun word search puzzle. There are 15 girls' names and 15 boys' names.
How long will it take your guests to find them? Baby names may appear in any direction in the word search puzzle.
Printable Word Search and Answers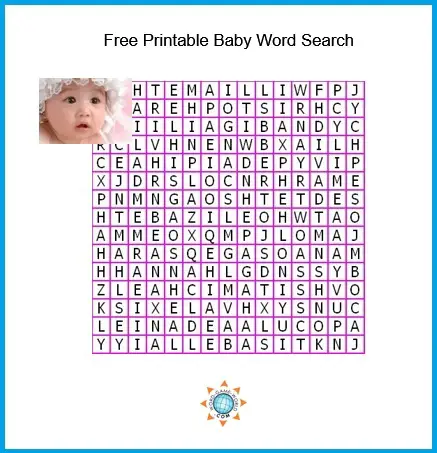 Boys' Names:     
JACOB,  MICHAEL,   JOSHUA  , MATTHEW,   CHRISTOPHER,
ANDREW,  DANIEL,  ETHAN,  JOSEPH , WILLIAM,  ANTHONY, 
NICHOLAS,  DAVID,  ALEXANDER, RYAN
Girls' Names:
EMILY,  MADISON, EMMA,  HANNAH,  OLIVIA,  ABIGAIL,
ISABELLA, ASHLEY,  SAMANTHA, ELIZABETH, ALEXIS,  SARAH,
 ALYSSA,  GRACE,  SOPHIA

Want Another Free Printable Baby Word Search?

Try this one!
Baby shower word search: This unique puzzle is in the shape of a baby bottle. Very cute!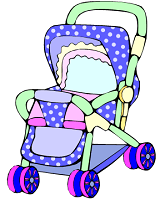 You might also want to try these baby shower activities:
Baby Names A to Z: This word scramble puzzle is a bit tougher than the one above. If you want to challenge your guests, or fill more time, try it!

Baby Equipment Word Scramble: See how quickly your guests can unscramble these words about everyday baby equipment you use for the precious newborn.
Memorable Baby Name Game: Here's the newest, simplest game ever! Your guests will have fun as they play this great new game.

Great Gift Ideas for Mom! In all the fuss over new baby gear, don't forget to plan something special for the new mom. Check out our list of fun, simple ideas!
Free printable baby word search puzzles are perfect for baby showers, because anyone can win. You provide (or rather, we provide!) all the words, and guests simply have to find them.
Tip: Have an extra prize or two handy in case there's a tie between winners.
Bridal Shower Ideas: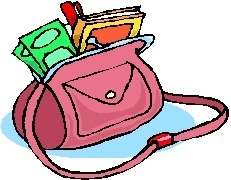 We also have a lot of bridal shower games and activities you might like to try including:
Crazy Bridal Shower Games - Three fun games guaranteed to bring lots of laughs and interaction
Bridal Shower Purse Game - A rollicking fun game where guests earn (or lose) points based on the contents of their purses
Wedding Word Scrambles - Links to several scrambles for wedding shower word play fun
Please note we also have lots of free word search puzzles and crosswords at all levels of difficulty. Lots of folks especially enjoy our easy crosswords.
---