Kids Bible Games

Jesus  Feeds a Crowd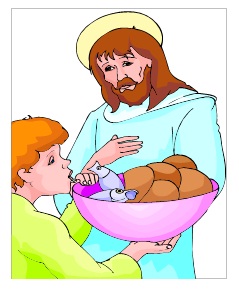 Our kids Bible games are fun, and they provide a great way to learn or review important Bible events. See the links at the bottom of the page for lots more fun printable Bible games and activities.
To solve this page, first read Matthew 14:13-21. Then read our version of the same story. Unscramble each underlined word from the word list and place in the blank in the story where it makes the most sense.
Here's a peek at the printable Bible word puzzle. Find the complete word list and text below.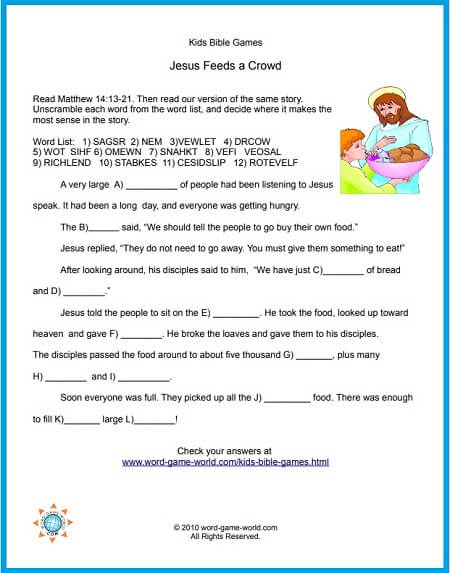 Word List

1)SAGSR

2)NEM

3) VEWLET


4)DRCOW

5)WOT SIHF

6)OMEWN

7)SNAHKT

8)VEFI VEOSAL

9)RICHLEND

10)STABKES

11)CEDISSLIP

12)ROTEVELF
Story
A very large A)________ of people had been listening to Jesus speak. It had been a long day, and everyone was getting hungry.
The B)_______ said," We should tell people to go buy their own food." Jesus replied,"They do not need to go away. You must give them something to eat!" After looking around his disciples said to him,"We just have C)_______ of bread and D)_______."
Jesus told the people to sit on the E)_______. He took the food, looked up toward heaven and gave F)_______. He broke the loaves and gave them to his disciples . The disciples passed the food around to about five thousand G)_______, plus many H)_______ and I)_______.
Soon everyone was full. They picked up all the J)_______ food. There was enough to fill K)_______ large L)_______!

A)4-crowd B)11-disciples C)8-five loaves D)5-two fish E)1-grass F)7-thanks G)2-men H)6-women* I)9-children J)leftover K)twelve baskets *women and children can be switched
Now try these Bible coloring pages! You'll find one that perfectly matches this story. 

More Kids Bible Games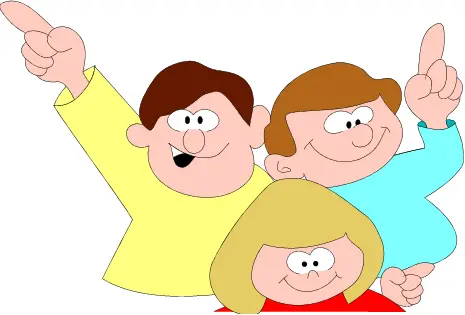 Pop Up! - How much fun will your kids have learning Bible verses? Try this game and find out! One of the best kids Bible games for Bible School and Church School groups.

Order, Please! A fun, flexible game to help groups of students memorize learn Bible verses. Also perfect for Bible School!
Bible Bingo Game Old Testament Bible Bingo at its best! Play it at your next family night or youth group meeting.
See our entire collection of Bible Word Search Puzzles, or choose one from this shorter list:

Who Was Jesus? Jesus was called by many names in the Bible. We've hidden 40 of them in this word search puzzle. See how many you can find.


The Books of the New Testament Word Search that's great for personal use or a Sunday School class. Find all the books of the New Testament. Don't miss the little "twist" in this one!
Characters in the Gospels Can you remember the names of these important people from the first four books of the New Testament? Great for Bible classes of all ages.
The Birth of Christ Solve this crossword about the arrival of Baby Jesus. Great for Christmas -- or anytime!
---