Bible Word Searches

Twenty Miracles of Jesus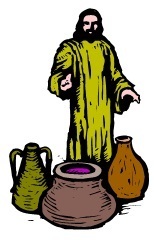 Reviewing the Bible is fun with our Bible word searches, and there are many more at the website for you to investigate.
In this puzzle, we supply you with 20 Bible passages, seen on the printable version. After reading the passage, you'll need to fill in the blanks in each sentence. Then look for the words you've added to the sentences in the puzzle.
Note: We used the NIV translation in writing the clues.

Printable version, clues and answers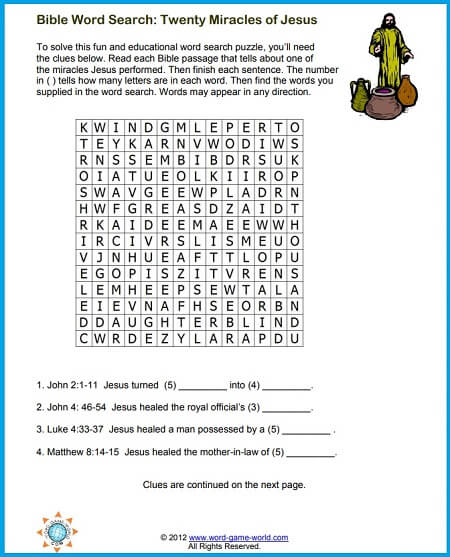 Here are the clues which you'll find on the printable page. The number in ( ) tells how many letters are in the answer. You'll find each word of your answers inside the word search puzzle!
1. John 2:1-11  Jesus turned  (5) _________ into (4) _________.
2. John 4: 46-54  Jesus healed the royal official's (3) _________.

3. Luke 4:33-37  Jesus healed a man possessed by a (5) _________ .

4. Matthew 8:14-15  Jesus healed the mother-in-law of (5) _________.  
5. Luke 5:3-10  He caused Peter, James and (4) _______ to catch a large number of (4) _________

6. Matthew 8: 1-3  Jesus healed a (5) _________.

7. Matthew 8:5-13  He healed a centurion's (7) _________.

8. Matthew 9: 1-8  Jesus healed a (9) _________  man.

9. Mark 3:1-6 Jesus healed a man with a (9) _________ hand.

10. Luke 7:11-17 Jesus raised the son of a (5) _________ . 
11. Mark 4:35-41 Jesus made the (4) _________  and (5) _________ obey him. 
12. Mark 5:1-13  Jesus healed a man with an (6)_________  (6)_________ . 
13. Matthew 9:20-22  Jesus healed a (5) _________ who had been (8) _________  for (6) _________ years.
14. Matthew 9:27-31 He healed two (5)_________ men.

15. Matthew 14:16-21  Jesus fed five (8)_________ men and their families with  (4) _________  loaves and (3) _________ fish.
16. Matthew 14:22-33  Jesus went out to his disciples, (7) _________ on the lake.

17. Matthew 15:21-28  Jesus healed a woman's (8)_________ who was demon-possessed.

18. John 11:1-44 Jesus raised (7)_________ from the dead.

19. Mark 10:46-52  Jesus healed a blind (6) __________ named (10)______________.

20. Luke 22:45-54  Jesus restored the severed (3)_________ of the servant of the  high  (6) _________. 
More Printable Bible Word Searches

Be sure to try more of our Bible word searches:

The Books of the New Testament Great for personal use or a Sunday School class. Find all the books of the New Testament. Don't miss the little "twist" in this one!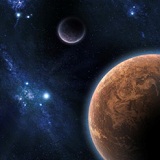 Creation Find over 30 words from Genesis, Chapter One. We've added a mystery word to this one.
The Kings from 1st and 2nd Kings Find all the kings -- and one queen -- from the chronology in these two books of the Old Testament. It's a great way to review, or learn, some of the key historic figures in the Old Testament. 
All About Solomon's Temple You'll be reminded of the splendor of the Temple in this fun word search puzzle.
Bible Crosswords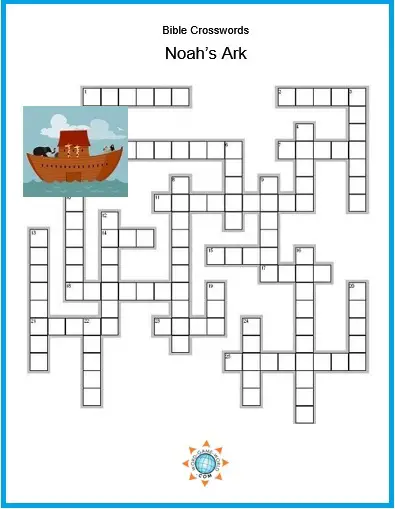 Here are just two from our collection:

Characters in the Gospels - One of our most popular Bible crosswords!
Noah's Ark Bible Crossword Can you answer all these clues on one of the most famous events in the Bible?
Bible Brainstorming Games

Bible Brainstorming I Perfect for any group gathering. Challenge everyone to supply as many answers as possible before time runs out!

Bible Brainstorming II If you enjoyed solving our first Bible Brainstorming word puzzle, here's a new challenge. Warning: This one is even tougher.
Bible Games for Kids
Pop Up! - How much fun will your kids have learning Bible verses? Try this game and find out! Ideal for Bible School and Church School groups.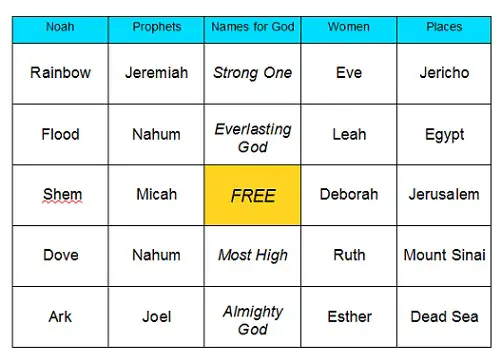 Bible Bingo Game Old Testament Bible Bingo at its best! Play it at your next family night or youth group meeting.
Bible Baseball Batter Up! Test your knowledge of Bible facts with this fun activity for a large group.
Jesus Feeds a Crowd A great way for kids to review one of the amazing miracles performed by Jesus!
More Printable Bible Games for All Ages
---