Jumble Word Games

Fruit & Veggie Frenzy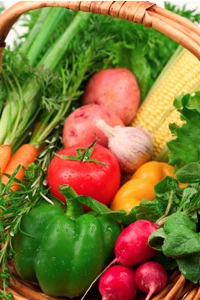 You won't find too many jumble word games like this one! Are you up to this tasty challenge?
To solve this page, you need to add one letter to the word in each line. Then rearrange all the letters to spell the name of a fruit or vegetable.
Example: plea
Answer: Add the letter p and spell apple.
Now try this list! How long will it take you solve all fifteen? You can find the answers at the printable link above, or behind the orange button below.  Here's a peek at the printable page. The full text also appears below for your convenience.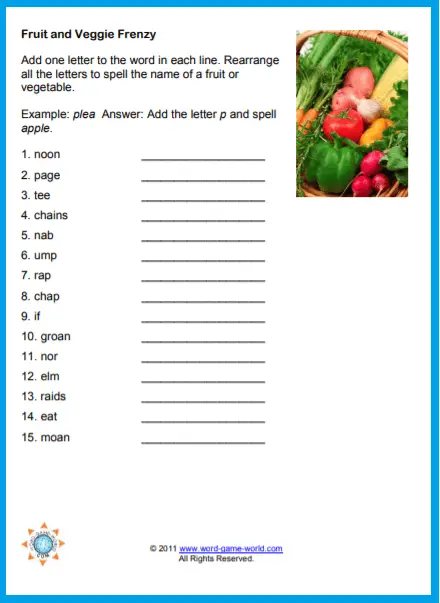 Printable word puzzle and answers

Fruit & Veggie Frenzy Word List:

1. noon
2. page
3. tee
4. chains
5. nab
6. ump
7. rap
8. chap
9. if
10. groan
11. nor
12. elm
13. raids
14. eat
15. moan
1. onion 2. grape 3. beet 4. spinach 5. bean 6. plum 7. pear 8. peach 9. fig 10. orange 11. corn 12. lime 13. radish 14. date 15. mango
For more fruity fun, try this easy word search puzzle!
More Jumble Word Games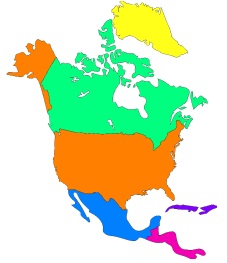 North American Cities Try to untangle this list of sixteen cities.

World Cities - Asian Word Scramble: How well do you know your cities of the world? If you're ready for a challenge, test your knowledge of cities in Asia and the country in which each city is located.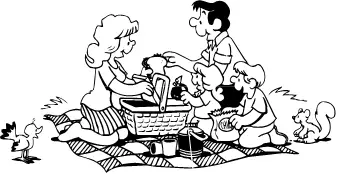 Picnic Word Scramble If you correctly solve each word on the list, you'll uncover two more picnic essentials. Different, and fun! Great for family reunions and other summertime gatherings.
Delicious Dessert Word Scramble Try this dessert scramble. Get comfortable and grab your favorite beverage and dessert and enjoy.
More Word Puzzles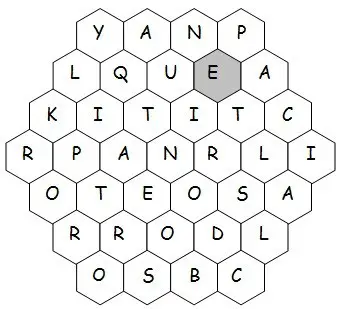 While you're here, be sure to try some of our other popular puzzles, including:
Buzzwords! To solve one of our exclusive Buzzword puzzles, you will use crossword-type clues, search through a honeycomb of letters, and unscramble anagrams. There's no other puzzle quite like this!

Creation In the beginning...and all the way through, we think you'll enjoy this Bible word search puzzle!
Fun Brain Games Are you up to the challenge? Find a puzzler on a topic of your choice! You'll find brain teaser games for both kids and adults! Start with this Brain Game Sampler. Solve 12 different teasers of varying difficulty on a wide variety of interesting topics!
---