Holiday Word Search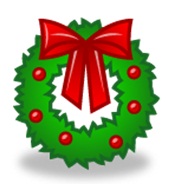 This holiday word search is perfect for any holiday gathering, from classroom parties to family gatherings. All ages can look for these fun words. Don't miss the twist!
These 38 words appear in the puzzle above. BUT two of the words are included twice. Can you find them?
Words may run forward, backwards and diagonally, both backward and forward. Try to find the words here, or use our printable version. 
Printable Holiday Word Search Puzzle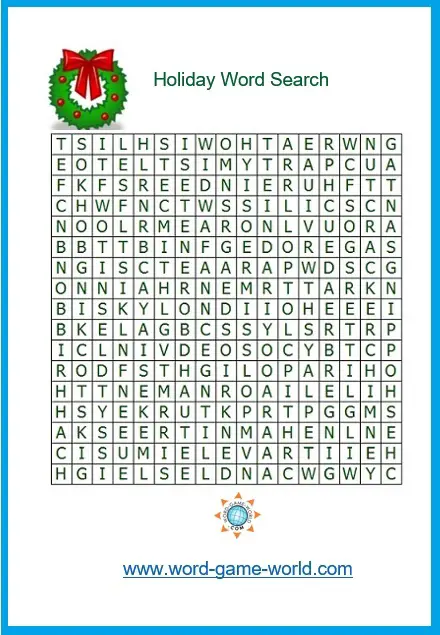 Word List:

BOWS

CANDLE

CHILDREN

CHIMNEY

COOKIES

ELVES

FAMILY

FRIENDS

GARLAND

GIFTS

GINGERBREAD

GLITTER

HAM

HOLLY

HOT CHOCOLATE

LIGHTS

MISTLETOE

MUSIC

NUTCRACKER

ORNAMENT

PARTY

PLAYS

REINDEER

RIBBON

SANTA

SHOPPING

SLEIGH

SNOW

STOCKING

SURPRISE

TINSEL

TOYS

TRAVEL

TREES

TURKEY

WISH LIST

WRAP

WREATH
If you liked this holiday word search, we think you'll also like...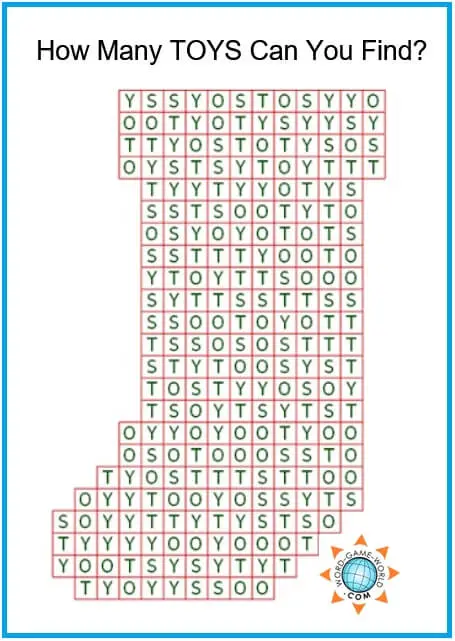 Christmas Word Searches - Two very non-traditional word search puzzles that you're sure to love. Look closely for special words hidden inside Christmas stockings.  The first puzzle, you'll try to find out how many times STOCKING is spelled. In the second, you'll do the same for TOYS. These puzzles are a bit tricky, and oh, so much fun! 

The Birth of Jesus Crossword - Celebrate the true meaning of Christmas with this engaging crossword puzzle. The clues come from the Gospels of Matthew and Luke in the New Testament.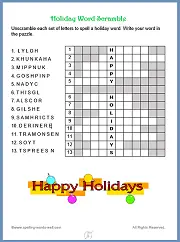 NEW! Holiday Word Scramble - Spellers of all ages are sure to enjoy solving this "Happy Holidays" word scramble puzzle!

Printable Christmas Brain Teasers - Two super-fun, challenging holiday cryptograms for upper grade students and adults.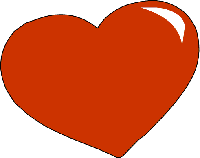 Martin Luther King, Jr. Word Search Puzzle Great review at any time of year!

Valentine Word Search - This one has a fun twist! Spell words using the letters in VALENTINE. How many of your words can you find in this puzzle?
More Word Search Puzzles:

Full-Service Spa - Relax! Pamper yourself awhile while you solve this one.
The Finer Things in Life - Indulge yourself in a few moments of thinking about pricey stuff! Even if you don't have some of these more luxurious items, we think you'll enjoy solving this puzzle!
Canada Word Search Puzzle Find the names of territories, cities, natural resources, and more.

London Word Search Puzzle A fun way to learn about the capital of the United Kingdom!
Spanish Word Search Puzzle Practice everyday words in both Spanish and English.
Don't miss our collection of Kids' Word Search Puzzles!

More Kinds of Word Puzzles: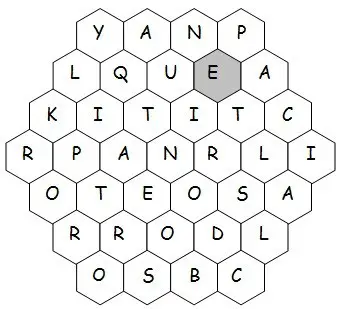 Solve crossword clues by searching for answers in our unique Buzzwords! This sweet honeycomb puzzle our original design. There's nothing like it!
Or try our wacky ZigZag puzzles. You'll put your spelling and vocabulary skills to the test.

Whether you like word searches, word scrambles, crosswords, anagrams, or other word games, you are sure to find something you like here at Word-Game-World.com!

---