Word Search Puzzles to Print

O, Canada!


You'll lots of word search puzzles to print, crossword to print and all sorts of word games on this site!
In this puzzle, find the territories, cities, natural resources, and people listed below. Can you also find the symbol that's on the Canadian Flag?
Word List:

ALBERTA
BRITISH COLUMBIA
MANITOBA
NEW BRUNSWICK
NEWFOUNDLAND (and Labrador)
NOVA SCOTIA
ONTARIO
PRINCE EDWARD (Island)
QUEBEC
SASKATCHEWAN
NORTHWEST (Territories)
YUKON 
NUNAVUT
OTTAWA
TORONTO
MONTREAL
VANCOUVER
CALGARY
EDMONTON
WINNIPEG
HAMILTON
LONDON
KITCHENER
IRON ORE
NICKEL
COPPER
ZINC
GOLD
LEAD
FISH
TIMBER
WILDLIFE
WHEAT
BARLEY
DAIRY
QUEEN
PRIME MINISTER
HOUSE OF COMMONS
More Word Search Puzzles to Print


Here are a few more of our favorite printable word search games:
50 States Word Search Game - Find all fifty states of the United States. Fun to solve no matter where you live!
Coffee! Grab a cup of your favorite brew as you solve this fun puzzle in an interesting shape.
You've Got Mail! A simple puzzler about that essential we use every day.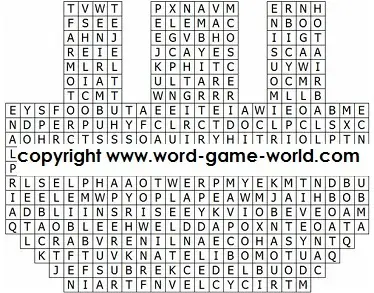 Search A Word Transportation Puzzle See if you can find all of the words in this puzzle featuring modes of transportation.
Geometry Terms and Definitions: Lots of crucial terminology is included in this math crossword.
Music Word Search: How familiar are you with German Composers like Beethoven? Try this word search and find the names of 40 German composers from the Baroque, Classical and Romantic eras.
Wedding Word Search - Perfect for a bridal shower or for solving on your own. Look for the names of those people who make a wedding happen.

Fruity Word Search -  Here's an easy word search for beginning puzzlers of all ages. Fruit is healthy to eat and fun to find in this simple puzzle page! Did your favorite fruits make our list?
Fun Furniture - How many of these funky, fun furnishings are in your home?
More International Word Puzzles:


---