Printable Bible Word Search

The Kings from First and Second Kings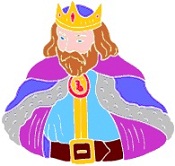 Here's a great printable Bible word search to solve on your own or to use for your next Bible group.
In this challenging Bible Word Search puzzle, we've used the names of the kings who ruled Judah and Israel in the books of I Kings and II Kings.
Correction…One of these names actually belonged to a Queen. Do you know which one it is?
Printable Word Search and Answers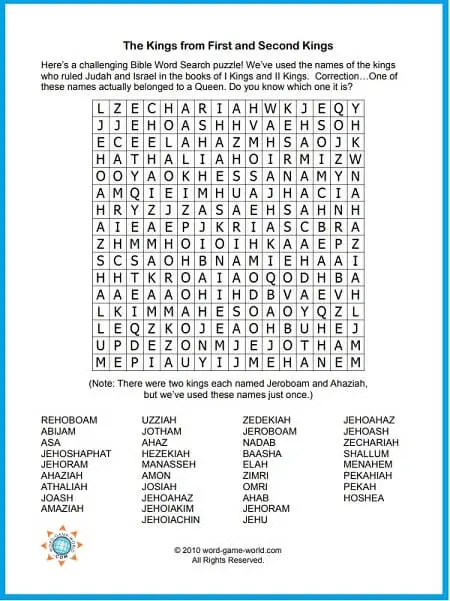 REHOBOAM
ABIJAM
ASA
JEHOSHAPHAT
JEHORAM
AHAZIAH
ATHALIAH
JOASH
AMAZIAH

UZZIAH
JOTHAN
AHAZ
HEZEKIAH
MANASSEH
AMON
JOSIAH
JEHOAHAZ
JEHOIAKIM
JEHOIACHIN

ZEDEKIAH
JEROBOAM
NADAB
BAASHA
ELAH
ZIMRI
OMRI
AHAB
JEHORAM
JEHU

JEHOAHAZ
JEHOASH
ZECHARIAH
SHALLUM
MENAHEM
PEKAHIAH

PEKAH
HOSHEA

More Printable Bible Word Search Puzzles


Be sure to try these puzzles for more word search Bible fun:
Creation Locate some key words from Genesis, Chapter One in this popular word search puzzle.
Miracles of Jesus Read the Bible passages for 20 of the miracles Jesus performed, finished sentences, and solve a word search. Lots to do here!
Who Was Jesus? Jesus was called by many names in the Bible. We've hidden 40 of them in this puzzle. See how many you can find.
The Books of the New Testament Great for personal use or a Sunday School class. Find all the books of the New Testament. Don't miss the little "twist" in this one!

We have lots of other types of free, printable Bible word games as well. Take a look at some of these:
Bible Crosswords

Characters in the Gospels - One of our most popular Bible crosswords!

The Birth of Christ Solve this crossword about the birth of Christ.
The Apostle Paul Review the remarkable life of the Apostle Paul n this challenging puzzle.
Noah's Ark Bible Crossword Can you answer all these clues on one of the most famous events in the Bible?
Bible Games for Kids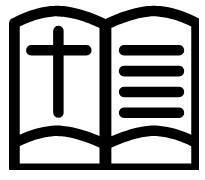 Pop Up! - How much fun will your kids have learning Bible verses? Try this game and find out! Ideal for Bible School and Church School groups.
Bible Bingo Game Old Testament Bible Bingo at its best! Play it at your next family night or youth group meeting.
Bible Puzzles for Kids, ABC style!
In this fun puzzle, kids must remove each letter of the alphabet to reveal in important Bible verse.
More Printable Bible Games for All Ages
---