For Your Child
Educational Games and Puzzles
Parents and teachers, do you like to provide your child educational game and puzzle activities? If so, you are in the right place! 
I'm adding lots of new educational games for kids of all ages. This page features an easy activity. You'll find more challenging ones, too, using the links at the bottom of the page.
Come to Your Senses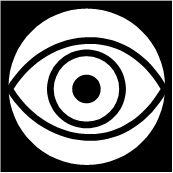 Find all 10 of the capitalized words in the puzzle. They may go in any direction. When you've finished the word search, match each part of the body to the correct sense.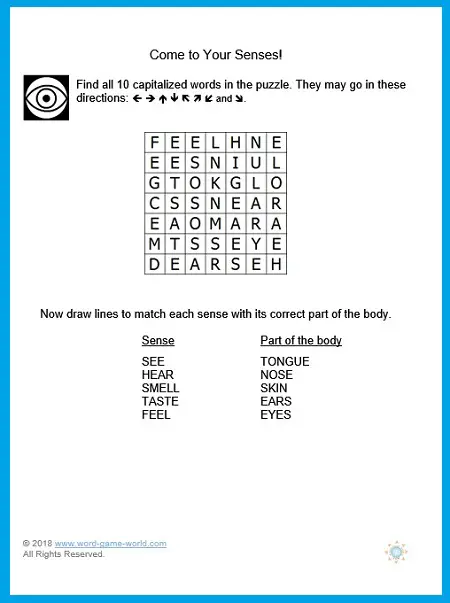 Extension activities:
1. Talk about the five senses with your child. Ask him/her to tell you what sense is used to smell a flower, to taste an apple, and so on.
2. Ask these "favorite" questions: What is your favorite thing to smell? to see? to hear? to taste? to feel? Compare your child's answers with your own.
3. Ask what are the first things you see, hear, smell, touch and taste when you wake up in the morning? 
4. Ask your child to draw a picture about things s/he enjoys about one of  the five senses.
More Child Educational Games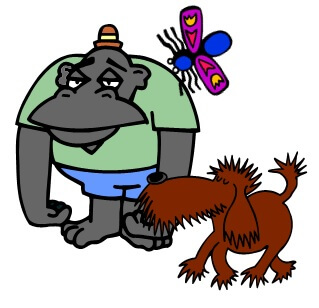 Animal Safari  Find 18 three-letter animal names hidden in a word search puzzle. There's a catch! The word list is not provided. Kids can play with a partner, or on their own, to see who can be the first to find all the words.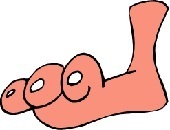 Foot Talk - Another child educational game that's fun and easy for young learners. Kids must unscramble words related to feet, and then solve a fun puzzler about shoes. 
Tic Tac Toe Spelling: Just about everyone of has grown up playing tic-tac-toe. Here's a new class spelling game kids will really enjoy. For any grade level.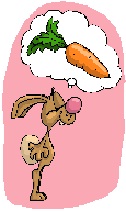 Rabbit Reading Race: One of our most popular reading games for kids! Players read and complete sentences with high-frequency words as they race to the finish line. Lots of fun for students in grades 1-2. 
Games for Older Children
Fun Brain Games - Solve lots of different brain teasers of varying difficulty on a wide range of topics. You'll need a good vocabulary and some addition skills to complete these great activities.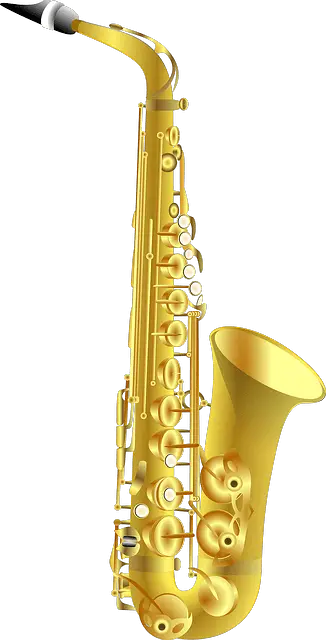 Saxophone Spelling - Partners compete to see who can complete the diagram first, and who can spell  the most words using the letters in SAXOPHONE. Musical history lesson and extension activity included!

Pushing Pencils - Learn about the history of the pencil while you very carefully follow some tricky directions on this interesting page. One of our best educational games!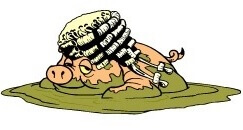 Pigs' Wigs - Find a rhyming pair of words to match each description! You'll have wacky fun, especially if you play this cool educational game with a friend!
---