Free Cryptograms Online

British Royal Family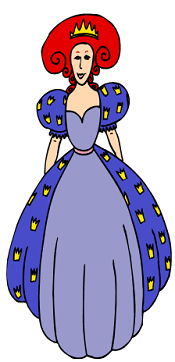 Our free cryptograms online are so much fun to solve! We have a wide assortment of cryptograms, cryptoquotes and cryptofamilies, like this one.
Here's a peek at the printable version. The entire text and answers also appear below.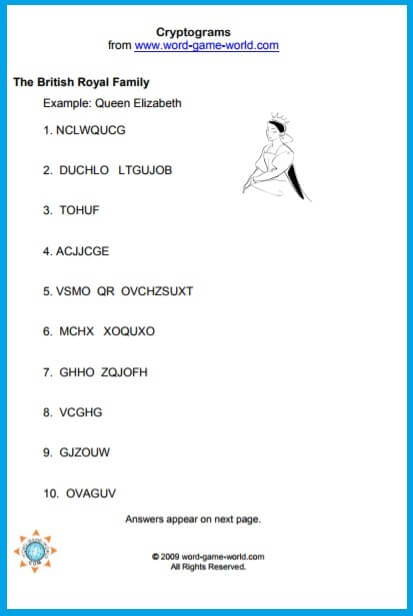 Example: Queen Elizabeth
1. NCLWQUCG
2. DUCHLO LTGUJOB
3. TOHUF
4. ACJJCGE
5. VSMO QR OVCHZSUXT
6. MCHX XOQUXO
7. GHHO ZQJOFH
8. VCGHG
9. GJZOUW
10. OVAGUV
1. Victoria 2. Prince Charles 3. Henry 4. William 5. Duke of Edinburgh 6. King George 7. Anne Boleyn 8. Diana 9. Albert 10. Edward
More Free Cryptograms Online from Word-Game-World: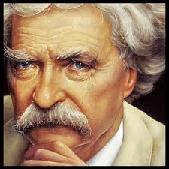 Try this assortment of witticisms by one of our favorites, Mark Twain!
Here's another place for more Cryptogram Fun. How long will it take you to solve these 6 interesting witticisms?
If you like solving puzzles and cryptograms on a regular basis, be sure to check out our cryptograms weekly page. We add a puzzling cryptogram every week for you to solve!
Don't consider yourself to be an expert at cryptograms? Try this set of easy cryptograms and then move on to more difficult puzzles.
We also have tips on solving cryptograms.
Word Search Games
There's a lot more here at Word-Game-World than free cryptograms online! Please take some time to try more of our fun puzzle formats!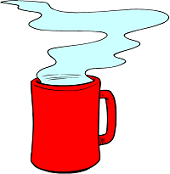 Coffee Word Search - This clever puzzle is designed inside a coffee mug! Grab a cup of your favorite blend while you solve it.
Wedding Word Search - Perfect for a bridal shower or for solving on your own. Look for the names of those people who make a wedding happen.
Math Word Search - Two puzzles on this page. The first is a number puzzle where you must find the answer to multiplication problems. The second is a puzzle in which important math terms are hidden.
Find LOTS more using the buttons on the left!

Other Word Puzzles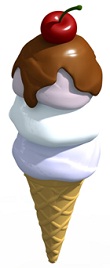 What's the Scoop? A cool, yummy puzzle, all about ice cream! Just unscramble the names of the most popular ice cream flavors and place them in the crossword puzzle.
Famous Pairs: If you can finish clues like mac and ? or peanut butter and ?, you'll have a blast with this one! It's really fun to solve with a friend.
Just Desserts: Fun, free word scramble of sweet treats!

Celebrity Anagrams: Unscramble the names of some well-known actors and actresses.
Don't miss our Bible word games, Baby Shower and Bridal Shower Games!
---