Word Search for Kids

Double-Letter Animals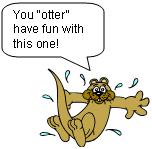 How about trying this word search for kids that features double-letter animals? Use our word list to find 30 animals, OR make your own list of animals spelled with double letters and see how many of your words are in our puzzle. Lots of fun, either way!

Dive into this fun puzzle featuring animals spelled with double letters. The words can go across, up, down and diagonally, both backwards and forwards.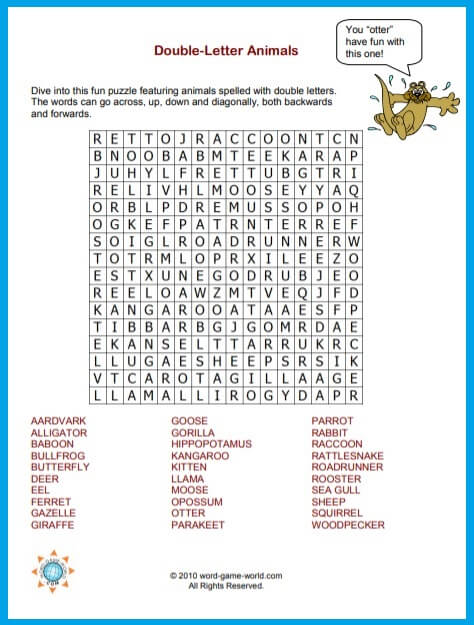 AARDVARK
ALLIGATOR
BABOON
BULLFROG
BUTTERFLY
DEER
EEL
FERRET
GAZELLE
GIRAFFE
GOOSE
GORILLA
HIPPOPOTAMUS
KANGAROO
KITTEN
LLAMA
MOOSE
OPOSSUM
OTTER
PARAKEET
PARROT
RABBIT
RACCOON
RATTLESNAKE
ROADRUNNER
ROOSTER
SEA GULL
SHEEP
SQUIRREL
WOODPECKER
Looking for another word search for kids?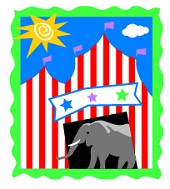 Try some of these. They're simple and fun!
Come to the Circus! Step right up to the big top for this fun puzzle with 25 words.

Disney Word Search Find words from 50 animated movie titles

Let's Laugh Fun words, easy for beginners.
Take a Seat! Super-simple puzzle in a chair shape. Lots of fun for beginners.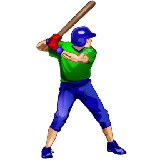 You'll also find these simple puzzles that are great for adults and kids:
Batter Up! Whether your favorite sport is baseball or something completely different, we think you'll really enjoy this sports word search.

You've Got Mail! A simple word find about something we use every day.
TV Talent Shows - Cast your vote for your favorite as you solve this fun puzzle!
Space Word Search An out-of-this-world learning experience. Fun to solve even if you're not in school! It's a fun word search for kids, at home or in the classroom. 

Idea for Parents and Teachers:
Kids' word games can boost your child's reading, spelling and vocabulary skills.
Take some time each week to print out a word game to solve with your child.
Other Easy Word Puzzles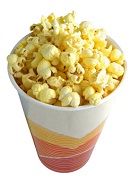 We also have Kids' Crossword Puzzles on a variety of topics, including:
Disney Crossword Puzzle One of our most popular kids printable crossword puzzles! Supply the names of some major characters from several Walt Disney stories and movies.
Rhyme Time Here's a fun crossword for young children to enjoy as they complete the sentences with words that rhyme.
Famous Pairs In this light-hearted crossword puzzle, you'll need to think about common combos of food, TV characters and everyday items. Just supply the second item in each pair.

Word search puzzles are a great way for kids to practice reading and spelling skills while they have fun! That's why you'll find several here at word-game-world, along with a good assortment of fun reading games and spelling games for kids.
---