Word Searches
Puzzles and More!

Here at Word Game World, we have oodles of traditional word searches puzzles, crosswords, cryptograms, anagrams, scrambles and more! Be sure to try them all!
TV Talent Shows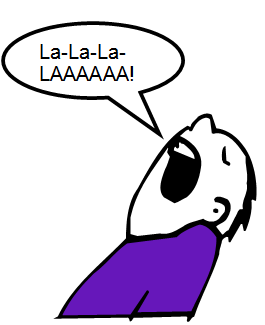 Television talent shows are more popular than ever. Why? Maybe it's because we ALL like to think that we could be a star!
Find the words in ALL CAPITAL letters in the puzzle. Answers may appear in any direction.
Printable puzzle and answers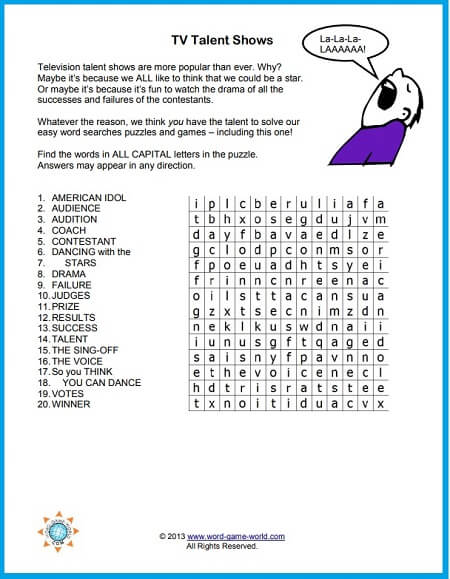 Word List:


1.  AMERICAN IDOL

2. AUDIENCE

3. AUDITION

4. COACH

5. CONTESTANT

6. DANCING with the...

7.  ... STARS

8. DRAMA

9. FAILURE

10. JUDGES

11. PRIZE

12. RESULTS

13. SUCCESS

14. TALENT

15. THE SING-OFF

16. THE VOICE

17. So you THINK...

18.   ...YOU CAN DANCE

19. VOTES

20. WINNER

Please note that you can view the answer grid by clicking on the printable version and scrolling down to the second page.

Don't miss our You've Got Mail! Word Search Puzzle!

Word searches are fun for everyone. Be sure to print out several of our pages to share with your friends and family! Don't miss our Bible pages, seasonal pages, and kids' puzzles, too. They're great for parties and family gatherings.

More Word Searches Puzzles and Games: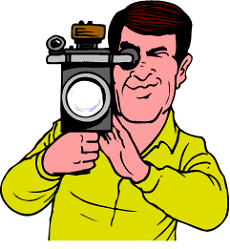 Movie Word Search - Supply the missing word in 30 movie titles, then find the words in the diagram. Our collection of word searches puzzles includes this great Two-In-One puzzle!
Canada Word Search - Explore Canada's cities, provinces and natural resources.


You may also be interested in these word searches, puzzles and games:
Space Word Search An out-of-this-world learning experience. Fun to solve even if you're not in school!
Double-Letter Animals This one "otter" be a lot of fun! Fun for kids and everyone else, too!
Kids' Word Search Assortment - View our entire set for kids. Teachers and parents, these are a fun way for children to practice reading and spelling skills.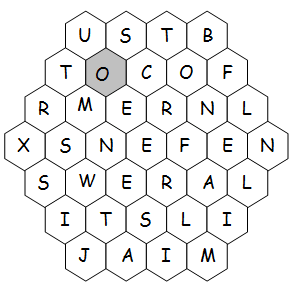 Buzzwords: Perhaps our favorite invention of all! You'll look answers to clues in a honeycomb-shaped word search puzzle. A unique combination of crosswords, word searches and anagrams, all wrapped up into one sweet puzzle!
ZigZags: Another original design, this puzzle will have you zigzagging your through a set of seven 7-letter words. Sounds easy, right?
Note: We have many more word searches that are more difficult than the one on this page. Of course, the same puzzle that may be easy for you may be difficult for someone else.
But in general, these factors make a word search puzzle more difficult:
Longer word lists
Words in the list that do not appear in the puzzle or
Words in the puzzle that do not appear on the list
Answers that appear backwards diagonally in the puzzle.

An extra "twist" of some sort in the puzzle

If you enjoyed solving this puzzle, please try more of our easy word search games, then move on to the medium and difficult levels. We think you'll like them all! Use the links at the top right of this page to locate these fun word games.

We have lots more word search puzzles, along with many easy crossword puzzles, anagrams, cryptograms, word scrambles and more.
Please use the nav bar on the left to find your way around all the features of our site.

Triangulairs: Use the letters in the triangles to form 4-letter words and the big 10-letter word. Can you beat our scores? This is fun game to play on your own when you have just a few minutes. Print one out, stick it in your briefcase or put by the TV. Solve it when you have a minute or two. If you beat our score, be sure to write us and tell us!
---