Fun Childrens
 Educational Games and Puzzles*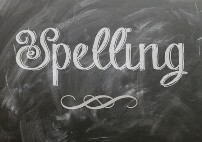 Our childrens educational games make learning and reviewing fun! This page features a crossword puzzle that can only be solved by using the correct spellings of some often-misspelled words. 
Follow the links at the bottom of the page to lots more educational games!
Spelling Quiz Crossword
For each clue, choose the correctly spelled word and write it in the puzzle. Be sure to check your answers carefully when you're done.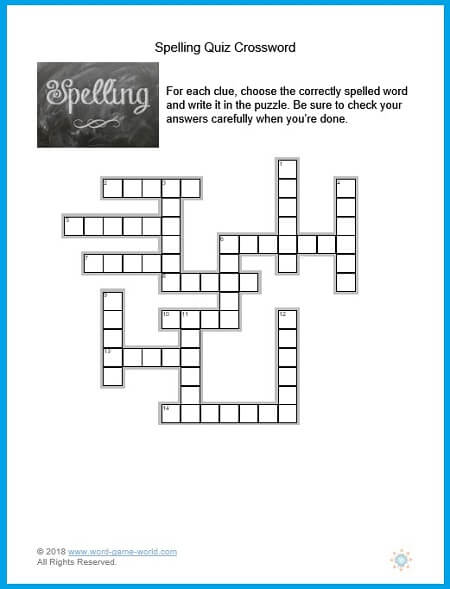 Across
2. REDDY – READY
5. LITTLE – LITTLE
6. BECAUSE – BECAUSE
7. AGAIN – AGAIN
8. THEIR – THEIR
10. SAID- SIAD
13. COLER – COLOR
14. USSUALY – USUALLY
Down
1. ANAMAL- ANIMAL
3. DOESN'T – DOSEN'T (Do not place the apostrophe in the puzzle.)
4. FREIND – FRIEND
6. BUILD – BIULD
9. PIECE – PIECE
11. ACCROS – ACROSS
12. FAMMLY – FAMILY
Extension activities:
1. Ask students to list 10 more pairs of words in which one is spelled correctly. Then have kids trade papers with another student. Ask them to circle the correctly spelled words. Then trade papers back and check each other's work.
2. Try the many spelling word games and other resources at my other website, SpellingWordsWell. 
* The title of the page should be written with an apostrophe: Fun Children's Educational Games and Puzzles. You'll see that the file name for this web page is childrens-educational-games. That's because file names cannot contain apostrophes. Also, when people are "googling" they often leave out apostrophes while doing quick searches. As I result, I omitted the apostrophe in a few places on this page so that people can find me more easily. Thanks for your understanding. 
More Childrens Educational Games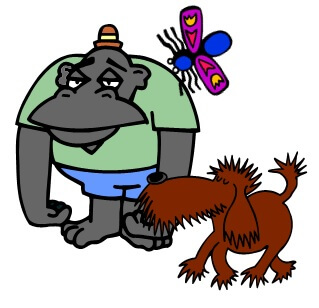 Animal Safari - Find 18 three-letter animal names hidden in a word search puzzle. But there's a catch: The word list is not provided. Kids can play with a partner, or on their own to see who can be the first to find all the words. 

Foot Talk will get your kids talking about their feet and unscrambling 12 related words. There's a simple matching exercise on the same page.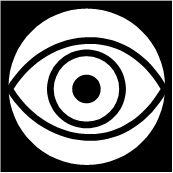 Come to Your Senses - Another childrens educational game that's fun and easy for young learners. Kids find 10 words in a word search puzzle, then match each body part to the correct sense.
Saxophone Spelling - Partners compete to see who can complete the diagram first, and who can spell  the most words using the letters in SAXOPHONE. Musical history lesson and extension activity included!

Waffle Words: A fun word puzzle based on a popular commercial word game. This puzzle works for grades 2-4, but you can make your own puzzles using this format for any grade. Fun childrens educational games are everywhere!

Change-A-Letter Here's an easy-to-play game for grades 2-3, with a harder variation for older grades. Your students will want to play this spelling game over and over again!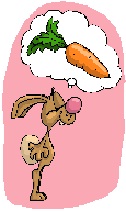 Rabbit Reading Race: One of our most popular reading games for kids! Players read and complete sentences with high-frequency words as they race to the finish line. Lots of fun for students in grades 1-2. 
Games for Older Children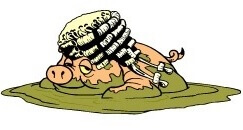 Pigs' Wigs - Find a rhyming pair of words to match each description!  This one of our most fun childrens educational game. Try playing it with a friend!

Pushing Pencils - Learn about the history of the pencil while you very carefully follow some tricky directions on this interesting page. One of our best educational games!
The Red Cross - Learn about the founding of the Red Cross while completing a cross-shaped word search. Don't miss the great research topics which will extend your learning experience!
---