Easy Word Scramble

At the Zoo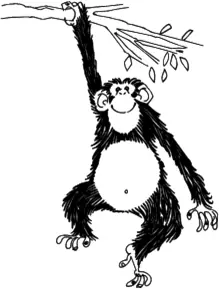 Here's an easy word scramble that's fun for kids of all ages to solve! When you've completed this one, be sure to try more of our free simple word scrambles.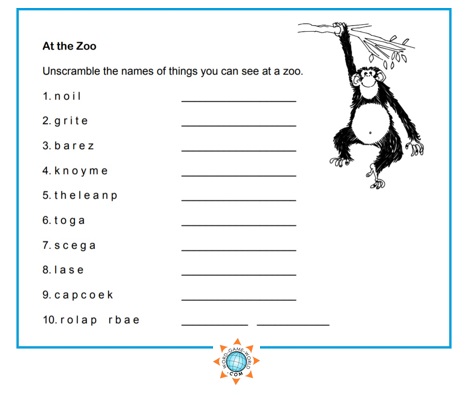 Instructions:

Think about all the animals you might see at the zoo. Then see if we've included those in our list. On the printable page, write each word correctly on your page. Or solve the puzzle without pencil and paper, then check your answers below. (Hint: One of the words is NOT an animal.)

Word List:
 1. n o i l                                    

 2. g r i t e                                 

 3. b a r e z                               

 4. k n o y m e                    

 5. t h e l e a n p                       

 6. t o g a                                  

 7. s c e g a                              

 8. l a s e                                   

 9. c a p c o e k                         

10. r o l a p    r b a e
1. lion 2. tiger 3. zebra 4. monkey 5. elephant 6. goat 7. cages 8. seal 9. peacock 10. polar bear
More Easy Word Scramble Games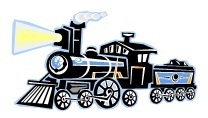 All Aboard! Try to discover a list of words, all about trains. You'll want to be on board for this fun challenge!
Let's Make a Sandwich! Here's a simple list of mixed up sandwich ingredients. Solving it might just make you hungry!
In Your Backpack Can you unscramble the names of these common items that just might be in your backpack
Check out our more difficult free scramble word games, too!
Other Fun Word Games

While you're here, be sure to try some of our other easy word puzzles, including:
Rhyme Time Crossword Puzzle Here's a fun crossword for young children to enjoy as they complete the sentences with words that rhyme.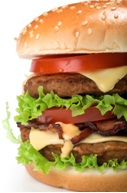 Let's Eat! Can you can figure out the clues to some of these common foods? 

Animal Crossword Puzzles Supply the names we use to describe different baby animals.
Math Crossword Puzzle If you're good with addition and subtraction facts, this puzzle will be a breeze!

Come to the Circus! Step right up to the big top for this fun word search puzzle with 25 words.
Let's Laugh Fun words, easy word search for beginners.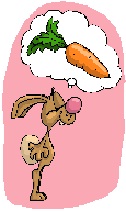 Rabbit Reading Race: One of our most popular reading games! Players read and complete sentences with high-frequency words as they race to the finish line. Lots of fun!
Cover Up: Decide if words are spelled correctly or incorrectly. This free spelling game is for three players and uses printable game boards.
Don't miss our crosswords, word searches, anagrams, cryptograms and Bible games for all ages.

There's something for everyone here at Word-Game-World!
---