Free Educational Games for Kids

Wide Awake!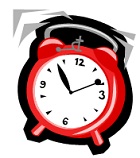 Free educational games for kids are a great way to provide extra practice with important skills. Our word scramble puzzles, like the one here, help to reinforce vocabulary and spelling skills.
This word game is a little tougher than many of our kids' puzzles, so it's perfect for upper elementary kids who need a challenge. (Note: Adults will like this one, too!)

You'll need to unscramble 15 words are similar in meaning to wide awake and paying attention.  Example: AWARE
Here's a peek at the Printable Version. The full text also appears below. Answers can be found on the printable page or under the orange button.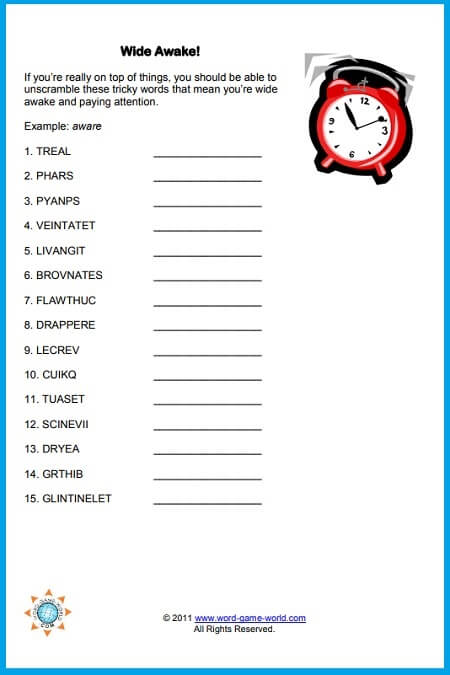 Word List:
1. TREAL                          

2. PHARS                         

3. PYANPS                       

4. VEINTATET                  

5. LIVANGIT                     

6. BROVNATES                

7. FLAWTHUC                  

8. DRAPPERE                  
9. LECREV                       

10. CUIKQ                        

11. TUASET                      

12. SCINEVII                              

13. DRYEA                       

14. GRTHIB                      

15. GLINTINELET    
1. alert 2. sharp 3. snappy 4. attentive 5. vigilant 6. observant 7. watchful 8. prepared 9. clever 10. quick 11. astute 12. incisive 13. ready 14. bright 15. intelligent

More Free Educational Games for Kids


Crosswords

Spanish Crossword Puzzle What a great way to practice basic Spanish words!
Science Crossword Puzzles Try out this astronomy crossword to see how much you know about the planets.
Disney Crossword Puzzle You'll need to supply the names of characters from several major Disney films. It's a lot of fun!
Animal Crossword Puzzles Supply the names we use to describe different baby animals.
Word Searches


Canada Word Search Explore Canada's provinces, cities,and natural resources in this entertaining word search puzzle.
50 States Word Search Puzzle How long will it take you to find all 50 of the states of the USA in this challenging puzzle?
Math Word Search Puzzles Two fun puzzles featuring multiplication problems and math words. Great for all ages!
Come to the Circus! Step right up to the big top for this fun puzzle with 25 words.
Word Scrambles and More


All Aboard! Try to discover a list of words, all about trains. You'll want to be on board for this fun challenge!
At the Zoo - Don't monkey around! Just unscramble these items you might spot at the zoo. Loads of fun!

In Your Backpack Can you unscramble the names of these common items that just might be in your backpack?
We have lots of Spelling Games and Reading Games for Kids!
---