Free Educational Kids Games

In Your Backpack


There are lots of great free educational kids games, and we have some of the best on the internet! On this page you'll find a fun word scramble about common school items for kids to solve.
In Your Backpack
Here's a peek at the printable page. For best results, print out the word list and have your child write the answers in the blanks included. You'll find the answers at the end of the printable page or under the orange button below.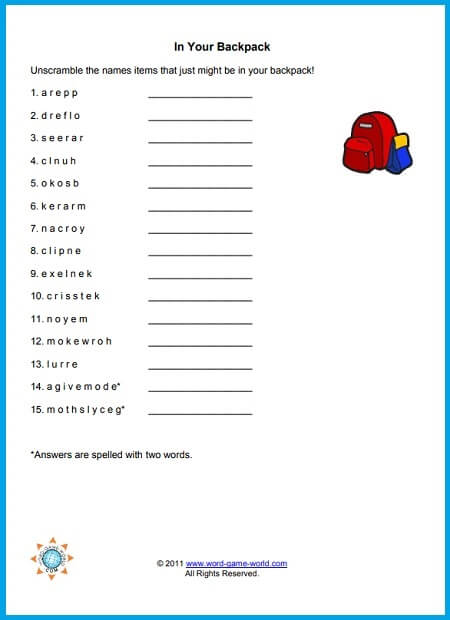 1. a r e p p                      

2. d r e f l o                      

3. s e e r a r                     

4. c l n u h                       

5. o k o s b                      

6. k e r a r m                    

7. n a c r o y                    

8. c l i p n e                      

9. e x e l n e k                  

10. c r i s s t e k               

11. n o y e m                   

12. m o k e w r o h           

13. l u r r e                       

14. a g i v e m o d e*        

15. m o t h s l y c e g*      
 *Answers are spelled with two words.
1. paper 2. folder 3. eraser 4. lunch 5. books 6. marker 7. crayon 8. pencil 9. Kleenex 10. money 11. homework 12. ruler 14. video game 15. gym clothes
More Free Educational Kids Games & Puzzles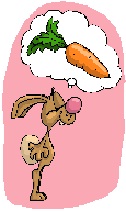 Math Crossword Puzzle If you're good with addition and subtraction facts, this puzzle will be a breeze!
Canada Word Search Explore Canada's provinces, cities,and natural resources in this entertaining word search puzzle.
50 States Word Search Puzzle How long will it take you to find all 50 of the states of the USA in this challenging puzzle?
Rabbit Reading Race: One of our most popular games! Players read and complete sentences with high-frequency words as they race to the finish line. Lots of fun!

Quick Draw - Free Reading Game: Kids must follow directions and draw simple objects correctly. Accurate reading comprehension is a must!

See all of our Kids' Reading Games and Spelling Games.


More Kids' Word Games: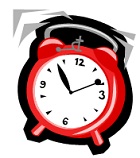 Here are just a few more of our free educational kids games:

All Aboard! Kids must recognize and unscramble words related to trains. Your kids will want to be on board for this fun challenge!
Wide Awake! Unscramble this challenging list of words that have a meaning similar to AWAKE and PAYING ATTENTION. Can you solve them all before you fall asleep?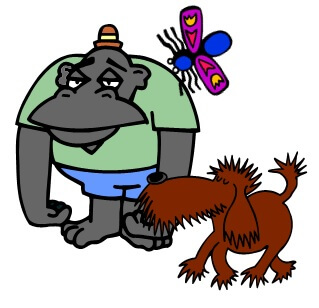 Animal Safari - Find 18 three-letter animal names hidden in a word search puzzle. But there's a catch: The word list is not provided. Kids can play with a partner, or on their own to see who can be the first to find all the words. Its one of our most fun free educational kids games!

Words that Begin with L In this fun word play puzzler, every answer begins with the letter L. How long will it take you to solve it?
Disney Crossword Puzzle You'll need to supply the names of characters from several major Disney films. It's a lot of fun!
Famous Pairs Crossword Puzzle This is an easy crossword to solve, if you can complete clues like mac and ? and salt and ? Solve this puzzle with your friends or family for extra fun!
We also have lots of Kids Word Search Puzzles which also provide good practice in reading and spelling.
---