Math Crossword Puzzle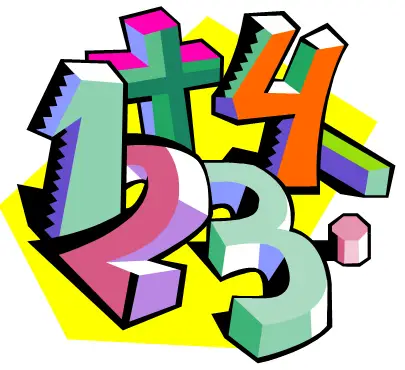 Here's a math crossword puzzle that makes math practice fun! Print it off and let your students enjoy practicing addition and subtraction facts. It's great for elementary classrooms or extra practice at home. 

Added bonus: Kids will also need to spell the number words correctly!

Math Crossword Puzzle


with

Addition & Subtraction Facts



Students will solve simple addition and subtraction problems, then write the answer in word form into the crossword puzzle. For best results, use the printable page.

Printable Math Crossword Puzzle & Solution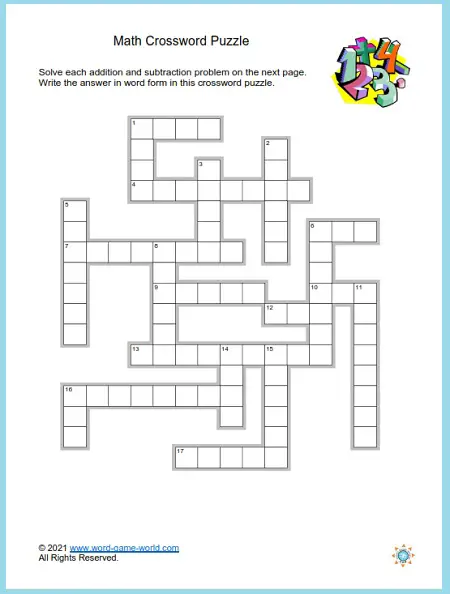 ACROSS
1.     7 - 3
4.     9 + 9
6.    10 - 4
7.     7 + 7
9.     11 - 3
10.   7 + 3
12.   5 - 4
13.   9 + 8
16.   5 + 8
17.   9 - 2
DOWN
1.   12 - 7
2.   10 + 10
3.    9 - 6
5.    9 + 6
6.    8 + 8
8.    6 + 6
11.  10 + 9
14.  11 - 2
15.   6 + 5
16.   9 - 7
Learn more about how to spell numbers on this informative page. Read tips for remembering the trickiest number words.

Practice the correct spelling of numbers in this fun crossword!
More Math, Science and Language Puzzles
Give your child or students more helpful practice in important skill areas with these crossword puzzles: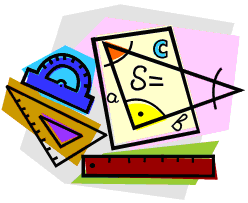 Math Word Search - Multiplication problems and math words in two fun word search puzzles. First, students will solve fifteen multiplication problems, then find the answers in the word search puzzle. In the second (tricky) math word search, kids will look for 41 math terms in the puzzle, but they will only be able to find 40. Which word is missing? As always, we find more ways to add some pizzazz to learning!

Geometry Crossword Puzzle - A great way to review thirty important geometry terms and definitions. Do you know the names for a ten-sided polygon? How about a closed plane figure with any number of sides? This puzzle is great for students who are learning or reviewing important terms. 

Science Crossword Puzzles Try out this astronomy crossword to see how much you know about the Milky Way galaxy. This puzzle features facts and terminology about our solar system. You might say this crossword is out of this world!
For another science theme, check out this Medical Crossword which features the names of bones.
Classic Books and Authors We've featured some of the best books of all time in this ready to print crossword puzzle. Supply the LAST NAME of the author for each title listed.
Why use crosswords in the classroom?
Crosswords provide a nice change-of-pace from the usual textbook or worksheet practice. Puzzles are a lot more fun! Crosswords also require exact answers and correct spelling, which is always a nice bonus. 
Printable crosswords, like the ones here, are very flexible. They can be assigned to be done in class or as take-home work. You can even ask kids to work in partners to complete them, if you know some students may struggle to succeed.
As always, if there are crossword topics you'd like to see here, please feel free to contact me. 

Spanish Crossword Puzzle Read the clue in Spanish, then write the equivalent English word in the puzzle. The clues include the words for colors, numbers and days of the week. It's great reinforcement for those words that we all should know.

Animal Crossword Puzzles Supply the names we use to describe different baby animals. Kids love to go to the zoo, to keep pets, and to learn fun new facts about animals. This crossword is perfect for your favorite child or early learner!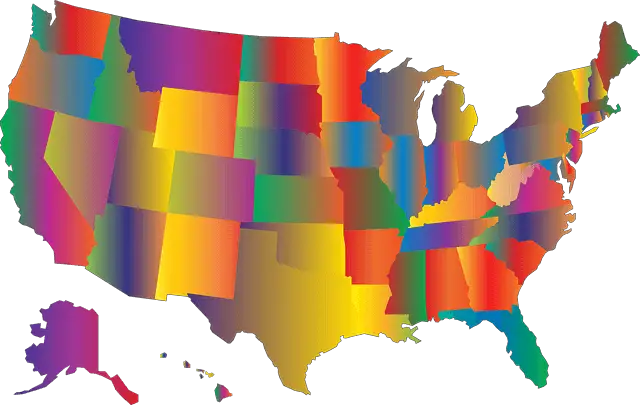 US States and Capitals Crossword You'll need to know all the capitals for states beginning with the letters A-M. 

US States and Capitals Crossword In this crossword, you'll need to supply the capitals for states beginning with the letters N-W.
Crosswords are a fun way to review!
More Learning Fun

Find OODLES of spelling resources on my Spelling-Words-Well website, including spelling worksheets, graded lists of spelling words, spelling bee words, worksheets, vocabulary lists, writing prompts and MORE!
We also have lots of easy word search puzzles and kids' word searches!
And don't miss our spelling games and reading games for kids! You'll find some really great learning games, including: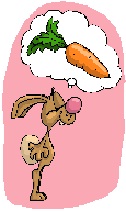 Rabbit Reading Race: One of our most popular games! Players read and complete sentences with high-frequency words as they race to the finish line. Lots of fun! Grades 1-2
Let's Make a Sandwich Word Scramble Here's a simple list of mixed up sandwich ingredients. Solving it might just make you hungry!

Quick Draw - Free Reading Game: Kids must follow directions and draw simple objects correctly. Accurate reading comprehension is a must! Students can add additional directions, making this a game to reuse throughout the school year. Grades 2-4


Ann Richmond Fisher has been a published puzzle writer and educational author for more than 30 years. Ann LOVES to concoct new puzzle formats and solve word games of all kinds! Her puzzles have appeared in Highlights for Children, local newspapers, and dozens of books published by The Education Center, McGraw-Hill and more. Ann is a former classroom and homeschool teacher. See Ann's spelling website at www.spelling-words-well.com. 
---