Kids Bible Verses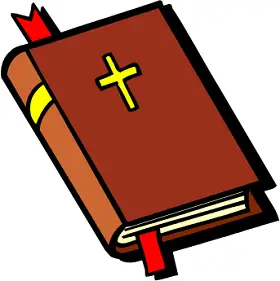 Here are 15 key kids Bible verses. These are suitable for children of all ages. Use these scriptures for Bible lessons, memory games, sword drills, wall displays, and more. All verses are taken from the New International Version.
15 Key Kids Bible Verses
Here's a peek at page 1 of the printable version. The full text of both pages appears below for your convenience.
Printable Version of 15 Kids Bible Verses
1)  "In the beginning, God created the heavens and the earth." (Genesis 1:1, NIV)
2)   "Your Word is a lamp for my feet, a light on my path." (Psalm 119:105)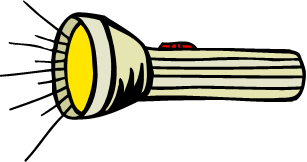 3)  "Trust in the Lord with all your heart and lean not on your own understanding; in all your ways submit to him, and he will make your paths straight." (Proverbs 3:5-6)
4)  "Commit to the Lord whatever you do, and he will establish your plans." (Proverbs 16:3)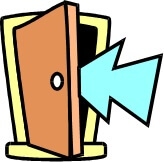 5)  "Ask and it will be given to you; seek and you will find; knock and the door will be opened to you."  (Matthew 7:7)
6)  "So in everything, do to others what you would have them do to you, for this sums up the Law and the Prophets." (Matthew 7:12)

7)  "Heaven and earth will pass away, but my words will never pass away."  (Mark 13:31)

 8)  "For God so loved the world that he gave his one and only Son, that whoever believes in him shall not perish but have eternal life." (John 3:16)
9)  "For we are God's handiwork, created in Christ Jesus to do good works, which God prepared in advance for us to do."  (Ephesians 2:10)
10)  "… he who began a good work in you will carry it on to completion until the day of Christ Jesus."  (Philippians 1:6)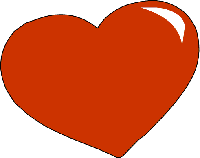 11)  "For the Spirit God gave us does not make us timid, but gives us power, love and self-discipline." (2 Timothy 1:7)
12)  "…God has said, "Never will I leave you; never will I forsake you."  (Hebrews 13:5)
13)  "Every good and perfect gift is from above, coming down from the Father of the heavenly lights…" (James 1:17)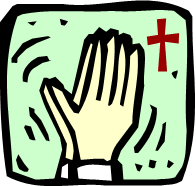 14)  "Come near to God and he will come near to you."   (James 4:8)
15) "Here I am! I stand at the door and knock. If anyone hears my voice and opens the door, I will come in..." (Revelation 3:20)

Extension activities
Here are some ideas for helping your children to learn these scriptures:
1. Copy the words for a single verse on separate 3 x 5 cards. Distribute the cards among your students. Ask them to stand in the order the words appear in Bible.
2. If practicing with only one child, hand all the 3 x 5 cards to him/her and ask the child to place them in the correct order.
3. Here's another fun way to teach Bible verses!
More Bible Verse Activities for Kids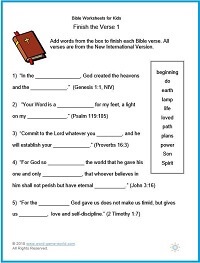 These Bible Worksheets for Kids feature ten of the verses from the printable above. Children need to choose the correct word from a word box to complete the scriptures.
Color the Bible Verse Game - Here's a simple, fun new game in which kids compete to color Bible verses, letter by letter.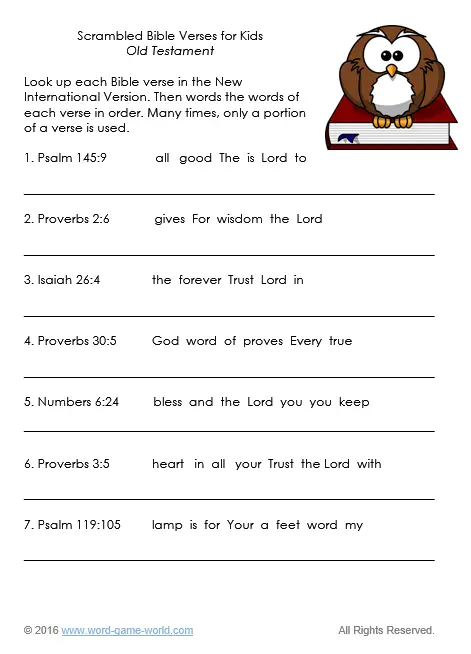 Scrambled Bible Verses for Kids - Find a set from both the Old and New Testaments for your kids to unscramble. Great practice for learning the Word of God!
Noah's Ark Bible Crossword Can you answer all these clues on one of the most famous events in the Bible?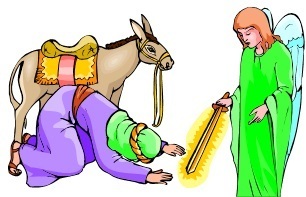 Old Testament Bible Trivia for Kids - Don't be put off thinking your kids don't know much about the Old Testament. I'm quite sure they've heard many of these stories. But do they know the details? Do you?

New Testament Kids Bible Trivia Questions and Answers- Check your kids' knowledge of some well-known N.T. characters, events and even some Bible verses!
My Newest Kids Bible Pages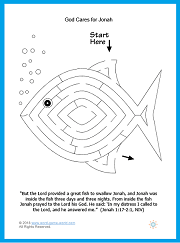 Sunday School Printables  Your students will love solving these fun mazes as you teach them about Jonah and a special verse from the Gospel of Matthew.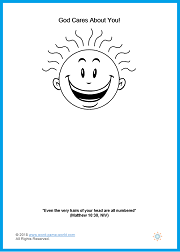 Bible Lessons for Kids   Try this engaging object lesson called, "God Cares for You," followed by this whimsical activity page. It's a memorable lesson on an important truth from God's Word. 
Bible Baseball Batter Up! Test your group's knowledge for Bible Trivia in this fun game for any size group. We've included 30 printable questions and answers for your convenience.
Bible Coloring Sheets - Ask kids to finish the kids Bible verses before they color the picture. Fun, unique printables for your children!
Books of the Bible Word Scramble - How quickly can your kids (or you?!) unscramble the names of 16 books of the Bible? There's also an added twist in this game we think you're going to like.
---