Simple Crossword Puzzles

Rhyme Time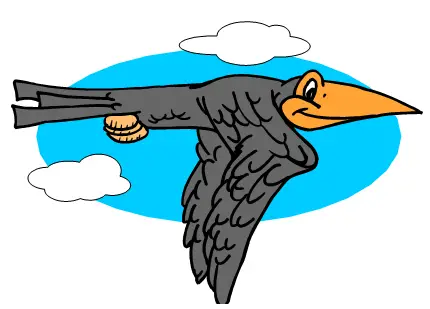 We have lots of simple crossword puzzles on our site that are fun for kids and even adults. They're a great learning tool that parents and teachers can use to make learning interesting!
On this kids' crossword, ask your child to come up with a word for each blank that rhymes with another important work in the clue. Solve the first couple of clues together until s/he has the idea. Then let the child try to finish the rest of the clues independently. 
Crosswords are a great activity because of all the "built-in" hints. That is, as some clues are written into the puzzle diagram, letters are supplied for other answers. These letters provide spelling and vocabulary hints that aren't available in most other types of puzzles!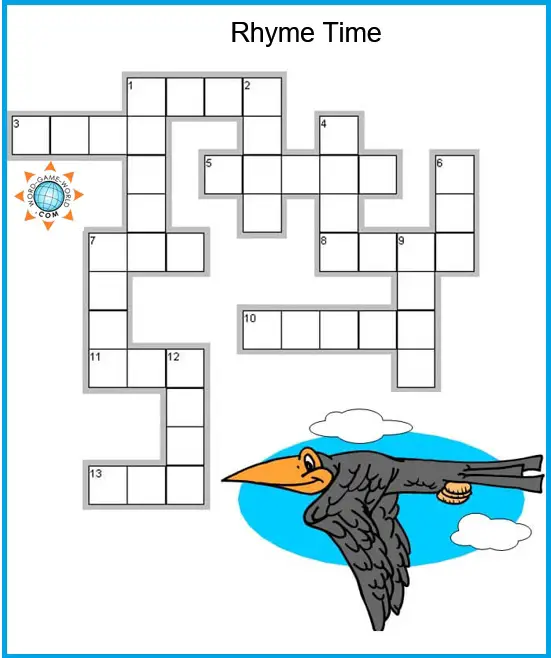 ACROSS
1. When the boy fell, the teacher rang the ____.
3. We got a good deal on our ____.
5. If you walked a mile, would you still ____?
7. Birds can fly in the ____.
8. The sleepy clown sat _____.
10. The spilled milk made a mess on her ____.
11. What is your plan for this frying ____?
13. Our cat is very _____.
DOWN
1. Jack always wears the color ______.
2. She put the stamp under a ____.
4. She is very sad, but I hope she will soon be _____.
6. When will the man open the ____?
7. If you start to hop, when will you ____?
9. If you see the lucky fish, be sure to make a ____.
12. The baby bird will rest in its ____.
More Fun, Simple Crossword Puzzles

If you or your kids would like to try more simple crosswords, we recommend: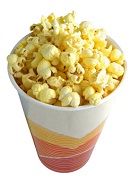 Disney Crossword Puzzles One of our most popular kids printable crossword puzzles! Supply the names of some major characters from several Walt Disney stories and movies.
What's the Scoop? A cool, yummy puzzle, all about ice cream! Just unscramble the names of the most popular ice cream flavors and place them in the puzzle.
Famous Pairs: If you can finish clues like mac and ? or peanut butter and ?, you'll have a blast with this one! It's really fun to solve with a friend.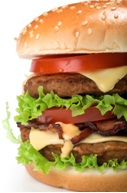 Let's Eat! If you want crossword puzzles easy enough for almost anyone, we think you'll like this one. It covers a wide assortment of well-known foods and most of them are easy to spell.
Animal Crossword Puzzles Supply the names we use to describe different baby animals. It's another simple crossword puzzle that's perfect for kids.
Body Part Scramble One of our easiest puzzles for early learners or ESL students. We give you all the letters for each answer, but you need to put them in the right order to spell a part of the body.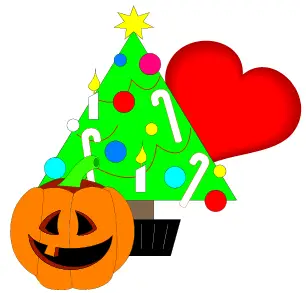 U.S. Holidays and Observances There's so much to celebrate! Check your knowledge of lots of special days, anytime of year. Even if you're not an American, you'll probably know most of these.
Insects! Don't let this subject bug you -- it's really not that difficult! Check your knowledge of several common flying and creeping critters. Keep your fly swatter handy!
Home Work From the most humble to the most magnificent, people do really live in lots of different types of homes. Find 20 different names. Great exercise for students, adults or anyone!
We also have lots of easy word search puzzles and kids' word searches!

More Kids' Simple Word Puzzles 
Here are just a few samples of our kids' word searches and word scrambles. Let your child choose a favorite topic, and dig in together!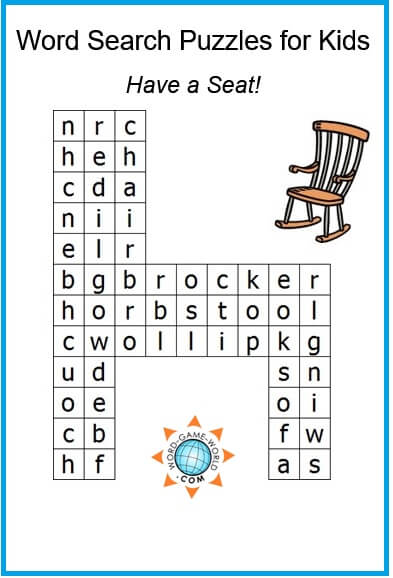 Take a Seat! Word search puzzles for kids are always fun, even if you're not a kid! This puzzle is written in a fun shape that matches the theme of the puzzle. In fact, your kids just might want to sit down while they solve this one!!!  This is a great word search for beginners.
Let's Take a Trip! What do you need when you go on a trip? What do you see? Find our list of 20 words.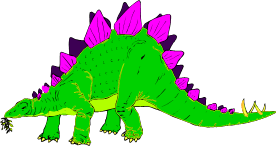 Dinosaur Word Search - Find 25 words, hidden in all directions, that are related to these fascinating animals. Also find out how many times the word DINOSAUR appears!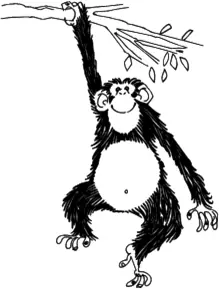 At the Zoo - Who likes the zoo? Or better yet, who DOESN'T like the zoo? So don't monkey around! Just unscramble these ten items you might spot at the zoo. This word scramble is quite simple and LOTS of fun!


Let's Make a Sandwich! On this page you'll find an easy scramble game featuring 10 common sandwich ingredients. Can your child discover the sandwich word in each set of letters and spell it correctly? Solving it might just make you and/or your child hungry, so perhaps you should have a snack at the ready!

Ann Richmond Fisher has been a published puzzle writer and educational author for more than 30 years. Ann LOVES to concoct new puzzle formats and solve word games of all kinds! Her puzzles have appeared in Highlights for Children, local newspapers, and dozens of books published by The Education Center, McGraw-Hill and more. Ann is a former classroom and homeschool teacher. See Ann's spelling website at www.spelling-words-well.com. 
---