Dog Word Search

Dog Breeds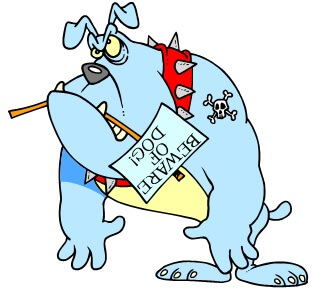 Are you an animal lover and word game lover, too? Here's a Dog Word Search Puzzle that you're going to love!
We've hidden 40 dog breeds here, from a much longer list of the American Kennel Club. As an extra "twist," we've also hidden the name of a beloved fictional dog. Can you find his name?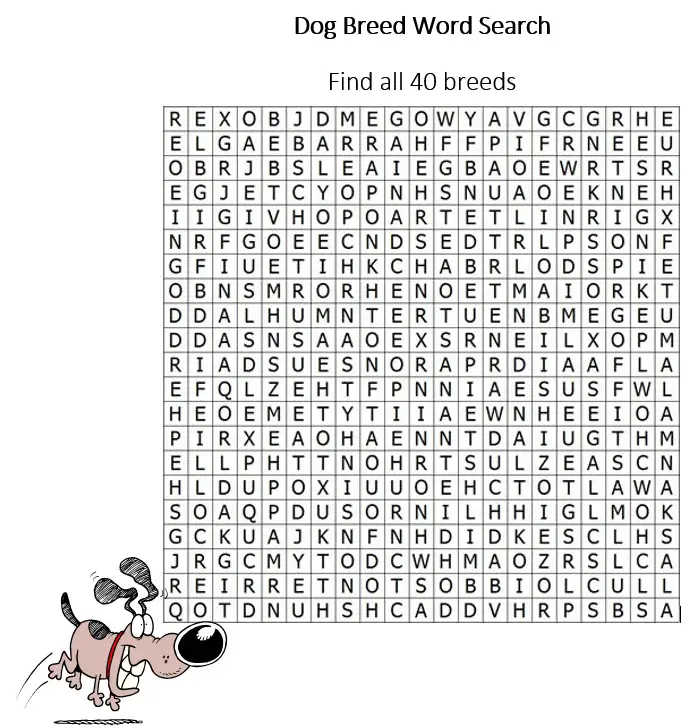 Dog Word Search Word List:

AFGHAN HOUND

AKITA

ALASKAN MALAMUTE

(Anatolian)SHEPHERD DOG


BASSET HOUND

BEAGLE

BLOODHOUND

BOSTON TERRIER

BOXER

BULLDOG

BULL MASTIFF

CHIHUAHUA

CHOW CHOW

COCKER SPANIEL

COLLIE

DACHSHUND

DALMATION

FOXHOUND

GERMAN PINSCHER

GIANT SCHNAUZER

GOLDEN RETRIEVER

GREAT DANE

GREYHOUND

IRISH SETTER

MALTESE

MASTIFF

PEKINGESE

POINTER

POMERANIAN

POODLE

PUG

PULI

ROTTWEILER

SAINT BERNARD

SHEEPDOG

SHIHTZU

SIBERIAN HUSKY

TOY FOX TERRIER

VIZSLA

WHIPPET
More Search Word Puzzles: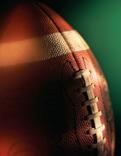 Football Word Search Are you ready for some football? See if you can locate the entire list of 54 football terms before the end of the next game!
Baseball Word Search You'll hit a home run when you solve this fun sports puzzle!

Search A Word Transportation Puzzle See if you can find all of the words in this puzzle that are modes of transportation. You'll like the interesting puzzle shape we created!

Space Word Search: An out-of-this world word search puzzle. Lots of fun to share and solve!
Astronomy Crossword Puzzle Review many of the words and definitions that are in the Space Word Search puzzle with this crossword.
Oatmeal Word Search Who knew there were so many tasty ways to enjoy this hearty breakfast food?
Five-Letter Fiasco Probably our most difficult word find. Are you up for the challenge?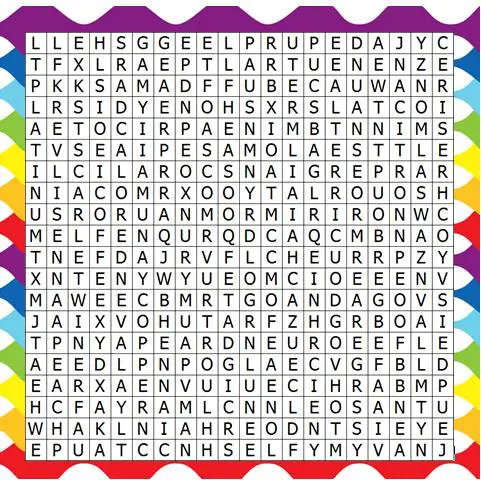 Color Me Puzzled!- Will this puzzle have you seeing red? We sure hope not! Look for SIXTY color words in this one.

50 States Word Search Game - Find all fifty states of the United States. Fun to solve no matter where you live!
John Who? - We've hidden the names of 26 famous men who all shared the first name of John. How many do you know?
Additional Kinds of Word Puzzles: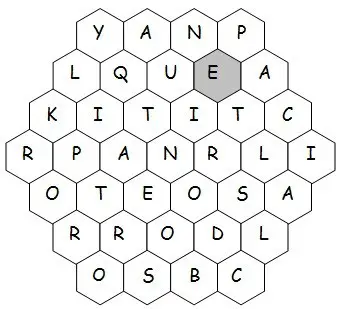 Here are some other popular word games you might enjoy:
Buzzwords! Our own original design. Solve crossword clues by searching for answers in this sweet honeycomb puzzle. There's nothing like it!
Cryptograms - Lots of cryptograms, cryptoquotes and cryptofamilies to decode. Puzzling fun at its best!
Free Word Scrambles - On all sorts of topics, for all ages.


Don't miss our crossword collections!

Come back again to check out our growing collections of all sorts of word games here at Word Game World!
---