Free Printable Word Games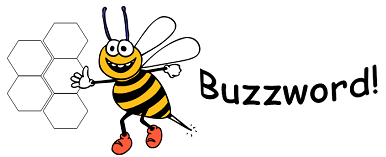 Welcome to our unique free printable word games called Buzzwords! You can find a sample puzzle and complete instructions here.

To solve one of our exclusive Buzzword puzzles, you will use crossword-type clues, search through a honeycomb of letters, and unscramble anagrams. There's no other puzzle quite like this!
Buzzword #1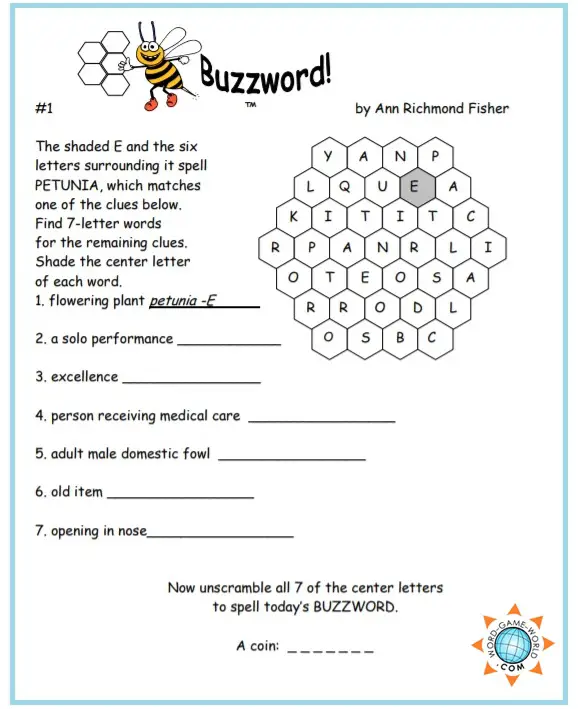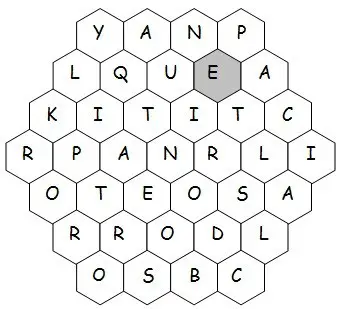 The shaded E and the six letters surrounding it spell PETUNIA, which matches one of the clues below.   
In the same way, find a 7-letter word for each of the remaining clues. Keep track of the center letter for each answer you find.
1. flowering plant   petunia - E

2. a solo performance

3. excellence

4. person receiving medical care

5. adult male domestic fowl

6. old item

7. opening in nose

Now find the BUZZWORD for this puzzle by unscrambling all 7 of the center letters to spell the answer to this clue:
                        a coin           
How did you do? If you're ready to check your answers for this Buzzword puzzle, click on the button.     
Buzzword #1
2. recital-T 3. quality-Q
4. patient-A 5. rooster-R
6. antique-T 7. nostril-R
Buzzword: QUARTER

More Buzzwords:

Are you ready for more Buzzwords? We hope so! Try these next:

I'll be adding more Buzzwords in the future, so please check back again for more of these free word games.

More Free Printable Word Games: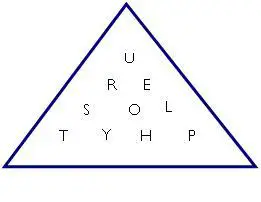 If you like solving Buzzwords, you may also enjoy some of other original word games, including:

Triangulairs TM- Unscramble a 10-letter word and form 4-letter words following one simple rule. Try to meet or beat our scores!
ZigZags TM - A fun-shaped puzzle to test your spelling and vocabulary expertise.
Dynamites TM -Blast our 9-letter words into two different sets of 3-letter words. Quick puzzles that are fun for everyone!
More Classic Word Games:

We also have lots of more free printable word games on all sorts of topics for all ages. Here are just a few examples:
Celebrity Anagrams: See if you can rearrange the letters to spell the name of a current celebrity you might see on stage or in a movie.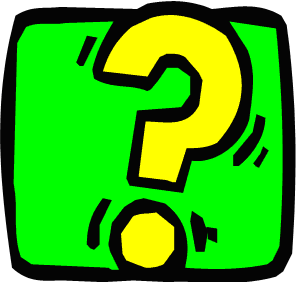 Cryptoquotes - Several sets of thought-provoking  and/or humorous encrypted quips and quotes. Very entertaining!
50 States Word Search Game - Find all fifty states of the United States. Fun to solve no matter where you live!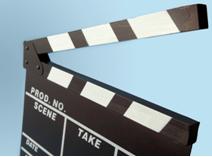 1980's Movie Word Scramble Puzzle: See how many of these popular 1980's movies you can remember and unscramble!
Don't miss our word games for kids!

---