Fall Word Search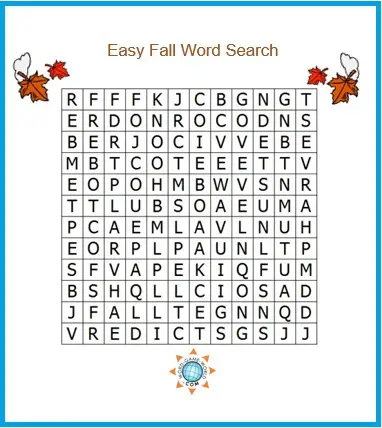 Here's a quick fall word search puzzle that you're sure to love! Print it out to play now, or save it for your next family gathering or fall party. With just fifteen words to find, this is a fun puzzle for little ones to solve with a family helper, or maybe even on their own!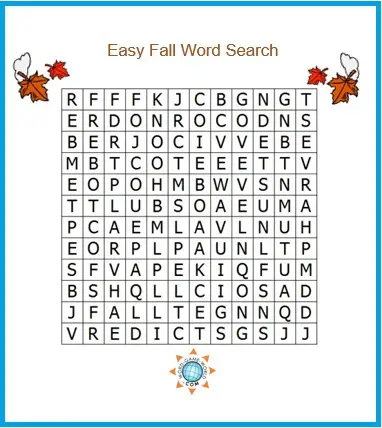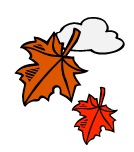 APPLES

AUTUMN

CIDER

COOL

CORN

FALL

FOOTBALL

HALLOWEEN

HARVEST

LEAVES

NOVEMBER

OCTOBER

PUMPKINS

SEPTEMBER

SQUASH
For More Fall Fun...
Why not ask your kids or students to make some fall word scramble puzzles of their own to share with family members or classmates?  Here are some good guidelines to pass on to them.
1. Choose an interesting topic first.
2. Make a list of 8-12 words that first this topic. Depending on the age of the puzzle writer, kids should choose words of 4 to 9 letters or so.
3. Carefully scramble each word. DOUBLE and TRIPLE-check your work. Write the scrambled words on a clean piece of paper and make sure all of the exact letters are in each word.
4. Finally, transfer the scrambled letters onto a final piece of paper. Add illustrations or drawings to make the page even more interesting. Share your word scramble puzzle with a friend or family member. Check their work when they've finished.
5. Topic ideas include: animals, school, the playground, hobbies, games, sports, foods and many more. 

If you enjoyed this fall word search, you may also enjoy...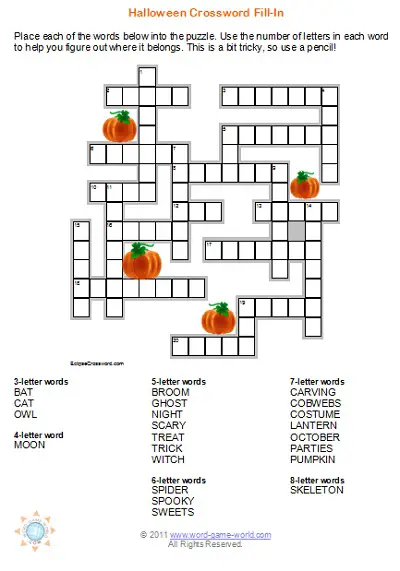 ...some of these seasonal favorites!
Halloween Word Search. Here's a fun Halloween word search puzzle, suitable for all ages. How long will it take you to find all 30 words related to this special fall occasion?
Halloween Fill-In Crossword If you're looking for Halloween crossword puzzles to solve, we think you're going to like this one! It's a fill-in puzzle, so you don't have to solve any clues. But you do have to use careful logic skills as you work so that you can place every word from the word list into the puzzle.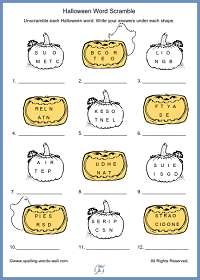 Halloween Word Scramble Just in time for Halloween, here's an eye-catching new word scramble that's suitable for classroom parties, family night, or just about any other Halloween event. It includes 12 not-too-scary ages, making it appropriate for all ages. 

NEW! Thanksgiving Word Scramble - Here's an entertaining Thanksgiving Word Scramble puzzle with a twist! Discover a timely hidden message after you unscramble all 15 words correctly. The theme of this page is gratitude. Solve on your own or with a group. Share with family and friends this season!
Football Word Search Are you ready for some football and a football word search? Find 54 terms related to football. Here at Word Game World, we like to add a twist or two to our printable word find games. This one is no exception! This time, we've hidden an extra word that's the goal for every professional football player. It's in the puzzle, but it's not in the word list.
Holiday Word Search It's always fun to celebrate Christmas. Perfect for any holiday gathering! Here's a traditional word search with LOTS of words about Christmas.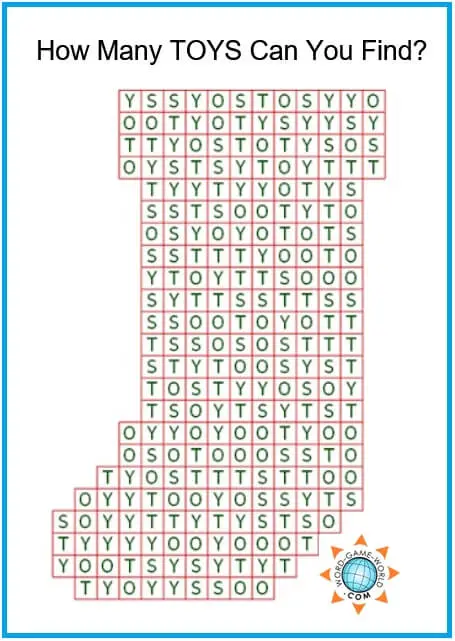 Christmas Word Searches - Two very non-traditional free word search puzzles that you're sure to love! Look for special words hidden inside Christmas stockings. These puzzles are a bit tricky!
The Birth of Christ Solve this crossword that features details about the arrival of Baby Jesus as told in the Bible. This puzzle is great to share at Christmas, or anytime!
Word Search Printables for Anytime


Spanish Word Search Puzzle Do you know the Spanish word for these English number, color and calendar words?
50 States Word Search How long will it take you to find all 50 of the United States?
Color Me Puzzled Will this puzzle have you seeing red? We sure hope not! You'll need to find a LOT of very colorful words to successfully complete this one.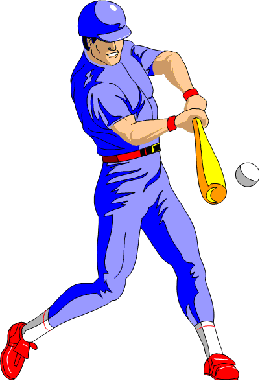 Baseball Word Search Hit a home run and find 40 baseball terms. There's a bit of a twist--don't make an error!
Five-Letter Fiasco Probably our most difficult word search puzzle. Are you up for the challenge? Every word that you need to find contains just five letters. That should make it easy, right???

Martin Luther King Word Search 40 words related to Martin Luther King's family, education, ministry and work as a civil rights leader. Can you find them all?

Valentine Word Search Are you ready for Valentine's Day? Here's a unique Valentine word search for your party, your classroom, or to solve on your own.
Kids' Word Search Check out this collection of kid-friendly, fun, free and printable puzzles!

Please note that we have LOTS of word games and puzzles on this site at all levels of difficulty. Use the buttons on the left to find the kind of puzzles you like best!
Teachers and Parents: Don't miss our fun reading games and spelling games for kids!
---